Help our planet! Eco-friendly products.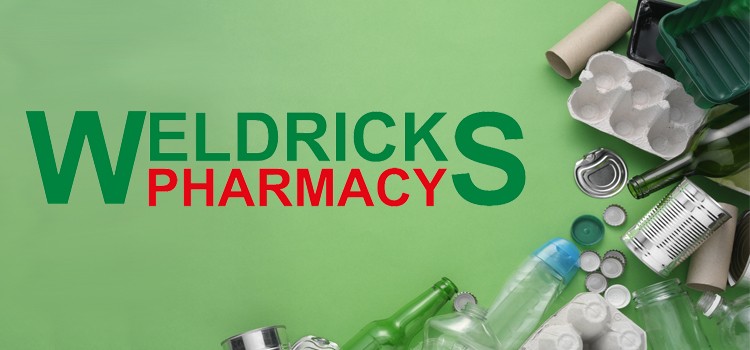 Published: 2nd April, 2019 in: News Videos
There are so many options available nowadays to help you be a little greener and more ethical in your own home, and here at Weldricks we want to ensure you have the means by which to do this. We offer many great green products that will mean you can make a positive difference to the environment from the comfort of your own home.
Check out this video we made on the topic!
Toothbrushes
The Independent reported on the impact that plastic toothbrushes have on our environment, saying 'it's estimated that 3.6 billion plastic toothbrushes are used worldwide every year, with an average person using 300 in their lifetime. Unfortunately, roughly 80 per cent of these end up in the sea, where they pose a risk to marine life and habitats.' They also noted that each toothbrush takes 1000 years to decompose! It is crazy that something as seemingly innocent as a toothbrush could have such a big impact on our planet. Well, how can we change this? We all have to clean our teeth, so what other options are available?
You could try the FETE Bamboo Toothbrushes we have on offer, not only are they biodegradable and recyclable but they are also made from the worlds fastest naturally renewing resource - bamboo! Bamboo also has the added benefits of inherent anti-microbial, anti-fungal, and antibacterial properties, so you know you are doing the best you can for your mouth and the planet. If a wooden toothbrush isn't for you then you could try the TEPE Good Toothbrush, which is made from bio-based plastic. The plastic is made from sugar cane which means it recirculates 95% of Co2 emissions during its lifecycle. Not only this but the toothbrush is also easily recycled, so no more toothbrushes in landfill.
Single-use Plastics
Single-use plastics are a huge problem for our environment, from packaging to plastic drinking straws, our seas are filling up with more and more plastic waste every day. You could give reusable silicone straws a try, which are easily transportable and will mean that the plastic wastage that comes with traditional plastic straws is gone. We also have traditional products in eco-friendly forms, such a solid toothpaste and solid deodorant. These products have 0 plastic in their packaging meaning no waste and easily recycled boxes.
Regular visits to the cafe for our morning lattes may be having more of an impact than you think. Although those takeaway coffee cups and lids may be recycled, many of us don't recycle them due to the lack of recycling facilities available in public. Further to this, the making of millions of single-use coffee cups and lids most definitely has a negative impact on our environment. To battle this you could try a reusable cup like the GoSili Silicone Cups; either fill it up in your own home and take it on-the-go, or take it into your local coffee shop and ask them to put your morning drink in it, most cafes and coffee shops will happily oblige.
And these aren't all the products we have on offer! From menstrual cups to cut out tampon and sanitary towel wastage, to soaps, and even vegan and cruelty-free makeup in recycled/recyclable packaging, we have an ever-growing range of products for your to choose from. Browse our range of ethical products HERE.
Click here for an Independent article on toothbrushes HERE.