How to Tackle a Sore Throat: Different Lozenges Brands in the UK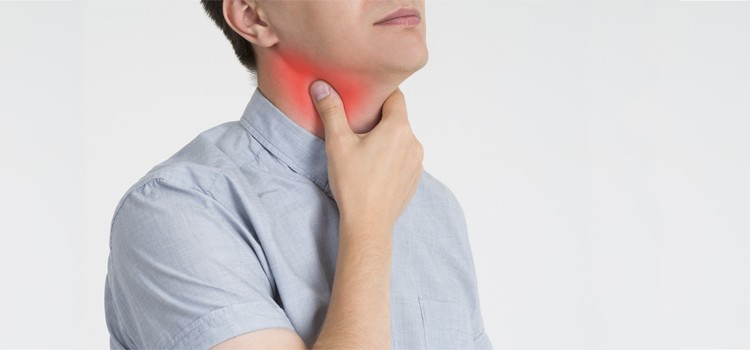 Published: 26th February, 2019 in: Cough, Cold and Flu
Let's face it - nobody likes suffering with a sore throat. Whether you're trying to cope with the type of sore throat that gives you a sharp pain, a dull ache, a loss of your voice or a tickly cough, it can be difficult to figure out how to get to the bottom of it.
Of course, keeping your fluids up and drinking warm drinks in particular can help to soothe your throat, but there's nothing quite like a lozenge to help to alleviate your painful symptoms and to make your sore throat feel a little better.
Luckily for us, there's a selection of lozenges brands in the UK with a host of different products readily available to purchase online. Here's a run through of some different lozenges brands in the UK, and a closer look at some of their products.
Tyrozets
Tyrozets are small but mighty, and certainly pack a punch in the lozenges world. Designed with a dual action, they contain anaesthetic which will numb pain in your throat, while the antibiotic ingredient will help you to stave off a throat infection. The lozenges dissolve in your mouth and gradually release their active ingredients to help you feel better.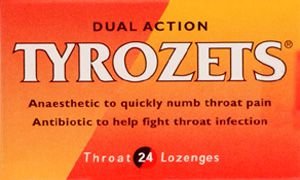 Strepsils
Strepsils are one of the most prominent lozenges brands around, with a huge selection of lozenges available on the market. They have created a number of different lozenges products which specialise in helping the different types of sore throat or tackling different symptoms. You can pick up lozenges for a sore throat and blocked nose, solely for sore throat pain relief, for children, and lozenges with vitamin C too. Available in a variety of flavours from strawberry to honey and lemon, menthol, cherry and more, you can grab a flavour which suits you.
Here are the sore throat and cough lozenges: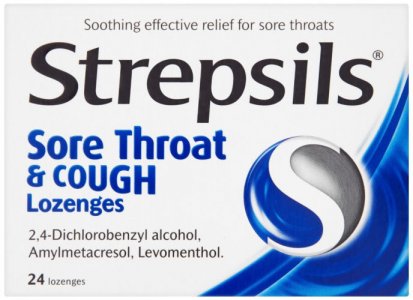 Dequadin
Dequadin have lozenges for sore throats and mouth infections, available to purchase from Weldricks Pharmacy in doses of either 20 tablets or 40 tablets. As well as effectively helping you to treat a sore throat, Dequadin can also be used for infections such as thrush, glossitis, stomatitis and pharyngitis too.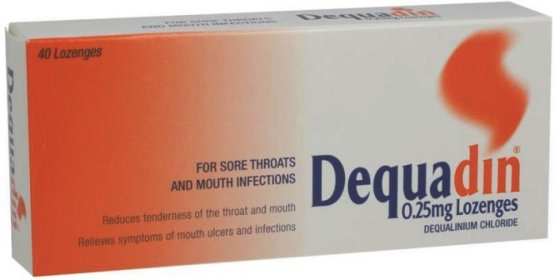 Halls
Halls is another brand of lozenges that is incredibly popular in the UK market, not least for its variety of flavours and ready availability in most convenience stores and supermarkets. They're great for soothing a sore throat, and are available from Weldricks Pharmacy in an original sugar free flavour, or alternatively a cherry flavour, as pictured here:

Covonia
Covonia is a particularly great lozenge brand if you're looking for a great option not only to help you with a sore throat, but also to help clear congestion at the same time. It has a distinctive warming flavour and helps to clear your airways, soothing your mouth and throat. The double action lozenges come in a standard variation, a 30g variation, or as a sugar free variation too:
Lockets
Lockets are the perfect lozenge choice for you if you have a mild sore throat and are looking for a lozenges to help to soothe this ailment. They are created with a real honey centre and contain vitamin C, packaged into lozenges with a delicious honey and lemon flavour, tasting great while working hard to relieve your sore throat at the same time.

MAC
MAC is a range of throat lozenges that are designed to tackle your sore throat. There are two different variants, the standard MAC lozenges with a honey and lemon flavouring, or the Dual Action kind pictured below which are both antiseptic and local anaesthetic, finished with a blackcurrant flavouring.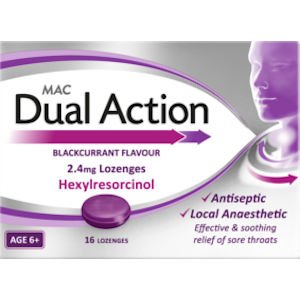 Difflam
Difflam is another of the lozenges brands available in the UK, offering a selection of products that are designed to relieve pain and irritation of the mouth and throat. The range contains 20 lozenges per packet, and can be bought in a eucalyptus flavour, orange-honey flavour, or the mint flavour pictured here: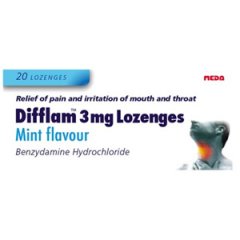 Evidently, there are a number of different high-quality lozenges brands available in the UK market, each with a range of products that will soothe your sore throat regardless of what your focus may be - simply to soothe, to help your pain, to get rid of irritation or to clear mouth infections.
Whatever the root of your sore throat problem may be, be sure to check out the range of different lozenges available online with Weldricks Pharmacy.