MooGoo Products - Everything You Need To Know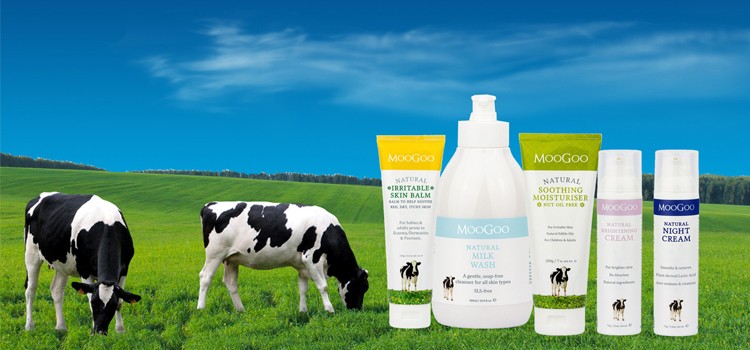 Published: 10th August, 2019 in: Skin Conditions
Whether your skin is oily, dry, sensitive, prone to eczema or a combination of a few things —it's important that you understand how to take care of it. As the largest organ in the human body, the skin requires special attention as we grow and age, thanks to continued exposure to things like sunlight and the elements too.
There are many different brands of skincare with ranges of products designed to care for all types of skin, but the latest brand to hit the Weldricks Pharmacy spotlight with its range of specialist natural skincare is MooGoo.
This article will introduce you to the brand, run through some of its products and how to use them, as well as answering any questions you may have about MooGoo, whose products are available to purchase online at Weldricks Pharmacy.
What is MooGoo?
MooGoo is a company that has crafted a range of natural and gentle skincare products, priding itself on a 'no gimmicks' approach and using effective ingredients that are designed to treat all types of skin.
MooGoo products are designed for babies, children, and adults, with extremely sensitive skin but the brand believes that all skin deserves to be treated with care, so would recommend their products to anyone. Not only do MooGoo love their creams but their products are also recommended by medical professionals worldwide.
All MooGoo items are free from parabens, silicone, petroleum, SLS, phenoxyethanol and any other nasty chemicals, with their brand philosophy being that if it isn't good enough to eat, it isn't good enough for the skin. With that in mind, the MooGoo range contains products which are designed to help with a variety of different skin conditions, including eczema, psoriasis and dermatitis, as well as moisturisers which can relieve the skin from painful side effects of chemotherapy and radiotherapy treatment.
Where is MooGoo made?
MooGoo is one of the leading natural skin care brands hailing from Australia. It's a family run business and all products are made in Australia.
Is MooGoo vegan?
Most of the MooGoo range of products are vegan friendly, however there are a few specific products which contain non-vegan ingredients. There is milk protein and honey in some of the creams, beeswax in the lip balms and whole milk in the cleansing bars. A full list of which MooGoo products are vegan can be found on their website.
How to use MooGoo products?
Naturally with a range of products, the instructions for how to use each product specifically will be slightly different. In light of this, we'll focus on two specific products, the MooGoo Scalp Cream, and the MooGoo Milk Wash (for instructions on how to use other MooGoo products check the 'instructions' tab on the specific product page).
Scalp Cream
MooGoo's Scalp Cream has been created to help cure red and dry skin around the scalp and face. It can be used on irritated skin, which is sore and itchy around the scalp, hairline, neck, ears and around the mouth area too. It helps to restore the microflora of the skin so that your skin can return to a healthy condition.
To use it, apply to damp skin after washing and then re-apply as required.
Patch test before use.
Milk Wash
The MooGoo Milk Wash is a gentle face cleanser formula that you can use all over your body. Simply use the pump to pump out the product onto your hand or face cloth and apply to a wet face or body before rinsing off. If the product gets into your eyes, simply wash out.
As with all natural products, it's important that you patch test the product before you use it just to check that it agrees with your skin.
How long does MooGoo take to work?
Every individual is different and each skin type is so unique, but you should start to see results from your MooGoo products in the matter of a few days.
Certain products from the MooGoo range, like the Irritable Skin Balm, can be used as often or for as long as you wish without any damage or concern, though generally it is advised that if any symptoms you're having which led you to a MooGoo product persist after two weeks then you should contact your doctor.
Conclusion
MooGoo is the perfect product range if you or your family members are suffering from dry, uncomfortable, or irritated skin. Offering a range of different products to treat your body, your face and your scalp, you'll be able to find the perfect MooGoo product to alleviate your symptoms, whatever they may be.
Weldricks Pharmacy is an official stockist of MooGoo products in the UK, offering a wealth of products readily available for delivery. Give a few products a try, or grab yourself an Oncology Care Pack to try a range of different MooGoo products at once.