Spring Bank Holiday and Platinum Jubilee Online Customer Service Opening Times:
Thursday 2nd June: 9am - 12noon
Friday 3rd June: Closed
Right Medicine For You (MURs)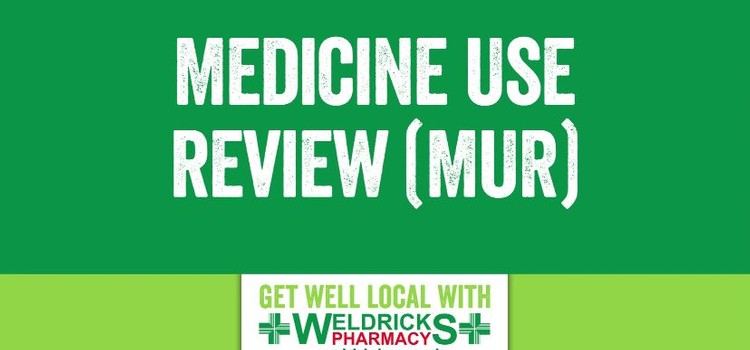 Published: 8th December, 2016 in: Health Services Videos
Understand your current medicines with a medicine use review
What is a Medicine Use Review?
A medicine use review is an appointment with a pharmacist to focus on how you are getting on with your medicines. It usually takes place in your local pharmacy. It is an NHS service - you don't need to pay for it.
The meeting is to:
Help you to find out more about the medicines you are taking.
Pick up any problems you are having with your medicines.
Improve the effectiveness of your medicines -There may be easier ways to take them, or you may find you need fewer medicines than before.
Get better value for the NHS - making sure that your medicines are right for you prevents unnecessary waste.
The Pharmacist you meet with will have questions to ask you, and may suggest changes to the way you take your medicines. You may have concerns or questions that you want to ask. You can ask anything at all about your medicines.
Remember you can ask your pharmacist questions at any time, but a review will give you both more time to concentrate on you and your medicines.
How might I be offered a review?
Your pharmacist might invite you for a review either in person or in a letter through the post.
You can ask for a review if you have been obtaining your prescription medicines from the pharmacy for 3 months or more.
Is a medicines use review for you?
You can ask for a medicine use review if:
You are regularly taking more than one prescription medicine.
You are taking medicines for a long term illness (like asthma, arthritis or diabetes).
Your pharmacist will be happy to arrange a review meeting, and may even suggest it. Your doctor or nurse might also suggest that a review would be helpful.
Even if you are not in either of these groups, you can ask your pharmacist for advice at any time.
If there is an urgent problem with medicines, don't wait for a medicines use review, talk to a doctor or pharmacist straight away.
How might I prepare?
Make a note of all the medicines you take, what you take them for and how/when you take them. (If you have concerns about particular medicines or have medicines which you no longer use take them along).
Think about questions, concerns and suggestions, and write them down.
Make sure you know when, where and who you are meeting.
What can I expect in a review meeting?
There will be a private area within the pharmacy, where you can sit down together and cannot be overheard by customers or staff.
Your details, and your discussion, will be kept private.
Your pharmacist will listen and help you with any questions you have about your medicines.
Your pharmacist will only know about the medicines you have received from that pharmacy. They will not have your medical history or details about your illness, so it's important to tell them as much as you can.
Your pharmacist will make a record to say the meeting took place and to note what was agreed during the meeting.
What happens after the meeting?
Everything may be ok with your medicines and nothing else will need to happen.
If you have any problems with a medicine, you may agree with your pharmacist to change the way you take it.
Your pharmacist may recommend that your doctor reviews your medicines. Your pharmacist may send a note to your doctor explaining the issues. You can have a copy of this note.
In order to receive this service, you will be asked to give your consent for your pharmacist to share information from your medicines use review discussion with:
Your GP, if necessary (eg if there is a need to change your medication)
Your primary care trust (local NHS authority), to make sure that the service is being provided properly by your pharmacist.
Your primary care trust, the NHS BusinessServices Authority and the Secretary of State for Health, to make sure your pharmacy is being paid the correct amount by the NHS for the service they have provided you.
If you do not give your consent you will not be able to use the service.