Viagra Connect: A Complete Guide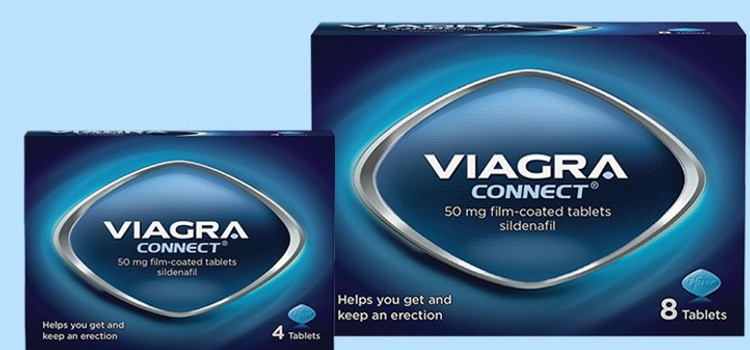 Published: 25th May, 2018 in: Sexual Health
Erectile Dysfunction (ED) is a condition thought to affect one in five adult men, which is 4.3 million in the UK. If you cannot get and maintain an erection that's hard enough for sexual intercourse, you may be suffering from ED. The symptoms of ED can differ from case to case. Some men do not get an erection at all, some men get an erection but cannot keep it long enough for sex and some men get an erection, but it isn't hard enough for sexual intercourse. Many men choose to ignore the symptoms of ED for years, when in reality it can be treated and prevented in most cases.
If you suffer from ED, there are a few lifestyle changes you can make to help reduce the risk of ED symptoms. You can lose weight through healthy eating, exercise regularly, reduce your stress, stop smoking, moderate your alcohol intake, and avoid recreational drugs as an attempt to alleviate your symptoms.
Alternatively, you can purchase over-the-counter oral medication without a prescription such as Viagra Connect.
What is Viagra Connect?
Viagra Connect is an oral medicine designed to treat erectile dysfunction symptoms in men aged 18 or over. Viagra Connect is clinically proven to treat all 3 common symptoms of ED - getting an erection, maintaining an erection and hardness of an erection. Having said this, Viagra Connect will not give you an instant erection, and you do need to be sexually aroused for Viagra Connect to work. It's designed specifically for those who suffer from symptoms of ED, which means that it will not help you if you do not suffer from any of the aforementioned ED symptoms.
The active ingredient used to create Viagra Connect is Sildenafil, which has been available for many years as a prescription-only medication. Viagra Connect is the first medication available to buy over the counter in the UK without a prescription that will help men who have ED. It is available to buy from many pharmacies and registered online pharmacies too, like Weldricks Pharmacy.
How does it work?
Viagra Connect increases the blood flow to the penis to help men get and maintain an erection that lasts long enough to engage in sexual intercourse. It's a common misconception that taking an oral viagra product like Viagra Connect will physically make you sexually aroused, however it actually only works when you are already aroused.
In order for men to achieve an erection, sexual stimulation causes the nervous system in the erectile tissue of the penis to release nitric oxide. This then stimulates an enzyme which produces cGMP, which in turn relaxes the muscle cells. This makes the arteries in the penis dilate so that blood flows there more easily, and the erectile tissue fills with blood which results in an erection.
Viagra products like Viagra Connect maintain the level of cGMP in the smooth muscle cells, which allows for an increased blood flow, enhancing the chances of achieving an erection and indeed maintaining it too.
Who can take it?
Viagra Connect is specifically for men who have impotence and suffer with ED. No one under the age of 18 will be able to buy it in a pharmacy, though women may be able to buy it on behalf of their partners if the pharmacist is satisfied that it is appropriate to dispense Viagra Connect.
Men who are not medically fit enough to engage in sexual intercourse will not be able to purchase Viagra Connect. This includes men with blood vessel or severe heart problems.
It is advised that men who become breathless or experience any chest pain when doing light forms of exercise, such as climbing two flights of stairs or walking, should not take Viagra Connect.
When should I take it?
Viagra Connect should be taken roughly one hour before you are intending to engage in sexual intercourse. It can be taken with or without food, though it may take slightly longer to kick in if you've just had a big meal before taking it. Do not exceed the recommended dose of one 50mg tablet per day. Taking it with grapefruit or grapefruit juice is strongly advised against, for it can affect how the medication works. Drinking lots of alcohol can also make it more difficult to gain an erection.
If it has been some time since you were able to achieve and sustain an erection, it may take a couple of attempts with Viagra Connect for effective sexual intercourse to ensue.
How long does Viagra Connect last?
How long Viagra Connect lasts will vary from one individual to the next, but it has been known to work for up to 5 hours at a time, when used alongside general sexual stimulation. Most will find, however, that the effects of Viagra Connect will start to wear off around 2-3 hours after initially ingesting the pill.
Viagra Connect ingredients
The primary ingredient in Viagra Connect is Sildenafil, which is an ingredient used to treat ED that has been available for many years. The other ingredients featured are:
The Tablet Core: microcrystalline cellulose, calcium hydrogen phosphate (anhydrous), croscarmellose sodium and magnesium stearate
The Film Coat: hypromellose, titanium dioxide (E171), lactose, triacetin and indigo carmine aluminium lake (E132)
Viagra Connect also contains lactose
Are there any side effects?
There are a few side effects that could occur when taking Viagra Connect. A very common side effect, which may affect more than one in 10 people, is a headache. Common side effects, which may affect up to one in 10 people, can include dizziness, colour tinge to vision or blurred vision, hot flushes, blocked nose or nausea.
You should stop taking the pills and seek immediate medical attention if you have a serious side effect such as chest pain, sudden decrease or loss of vision, an allergic reaction (difficulty breathing, wheeze and swelling of the lips, eyelids or face) or a seizure or fit.
People taking nitrate pills for angina should not take Viagra Connect. The same goes for people taking recreational poppers (amyl nitrite). There is also a clash with a medicine called riociguat and an HIV medication called ritonavir.
Make sure you tell your pharmacist about any treatments you are taking so that they can check it will be safe for you to have Viagra Connect. Pharmacists should also advise you to book a follow-up appointment with your doctor within six months of starting Viagra Connect because erectile dysfunction can sometimes be a sign of a different underlying condition, including heart disease, diabetes and high cholesterol.
Is it legal to buy Viagra Connect?
It is completely legal to purchase Viagra Connect, and it's the first over-the-counter viagra product which is available to purchase from the pharmacy without requiring a prescription.
GPs can prescribe Viagra Connect, and some pharmacies will sell the product online after a virtual consultation. Always check that the seller is reputable, for drugs available from any unregulated sellers could well be safe, ineffective and unsafe. At Weldricks a pack of 4 Viagra Connect pills will cost you £18.49, with a pack of 8 costing £31.99.
The availability of Viagra Connect within a pharmacy should make it more convenient for men to access an effective, genuine treatment for ED without having to book an appointment with a GP. It will also help for men to get accurate information about erectile dysfunction and how Viagra Connect can help to treat the condition from a professional pharmacist.
If you think you may be suffering from ED, find more information about Viagra Connect tablets and purchase safely and securely from Weldricks Pharmacy.