A&D Value Digital Electronic Blood Pressure Monitor UA631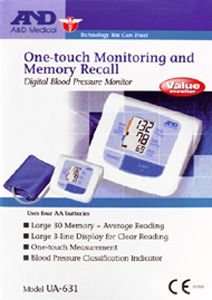 A&D Value Digital Electronic Blood Pressure Monitor UA631
£45.90 Save: £19.09 RRP: £64.99
This product is typically dispatched within 3-5 working days from date of order and is not suitable for our next day delivery service.
Brand: A&D
Code: 3208907
Weight: 175g
Description
This A&D Blood Pressure Monitor measures systolic and diastolic blood pressure in mmHG and pulse. It also indicates irregular heart beats. It indicates your position automatically after each measurement is complete. The monitor automatically shuts down when not in use to save battery life. It quickly and accurately displays the measurement within a minute.
The slim-fit upper arm cuff comes with correct size indicator. The monitor keeps track of past 30 readings with date and time clearly on its large display that makes screen easily readable. To prevent de-calibration and to protect the monitor, it comes packed in a complete case.
Wear loose-fitting clothes like a short sleeved t-shirt so that you can push your sleeve up comfortably.
Before you take your readings, rest for five minutes. You should be sitting down in a quiet place, preferably at a desk or table, with your arm resting on a firm surface and your feet flat on the floor.
Put the cuff on following the instructions that came with your monitor.
Directions
The A&D Blood Pressure Monitor comes complete with comprehensive instructions enclosed within the packaging. Please ensure you read all of the instructions before first use.
Tips for use
Check your blood pressure at least twice a day (before breakfast, after work).
Use the A&D Blood Pressure Monitor only for yourself.
Measure your blood pressure before taking an antidepressant.
Warnings
The A&D Blood Pressure Monitor is not suitable for measuring the frequency of cardiac pacemakers.
Consult your doctor during pregnancy, arrhythmia and arteriosclerosis as this can influence the measurement.
Avoid eating, drinking (alcohol), smoking, doing sports and taking a bath before measurement.
Be calm and relaxed before and during measurement.
You should never change the dose of medicines prescribed by your doctor.
Store the A&D Blood Pressure Monitor in a dry, closed place with a temperature between -20°C and 60°C.
Remove the batteries if you do not intend to use the Omron M7 for 3 months or more.
Do not discard the air plug.
When using the AC adapter, keep the batteries in the main unit.
Use both the AC adapter and the batteries to extend battery life.
Do not measure your blood pressure while you are in a vehicle.
Always measure on the same arm.
Wrap the cuff around your arm before start of measurement.
Only the A&D Blood Pressure Monitor cuff can be used on this device. Other cuffs must not be attached.
Operating temperature between 10°C and 40°C.
Operating environment must be free from excessive vibrations, shocks, electrical noise, corrosive gas, etc.
Stay out of sunlight during measuring.
Keep portable phones 5 meters away during measurement.
Do not wrap the cuff around any object other than your arm.
Do not fold or crush the cuff and the air tube.
Do not drop the A&D Blood Pressure Monitor.
Ingredients
There are no ingredients listed for this product.
You may also like