Calcia Tablets 30 Days Supply Pack of 90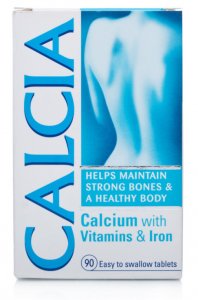 Calcia Tablets 30 Days Supply Pack of 90
Description
Calcia helps maintain strong bones and a healthy body. Calcia offers a unique formulation of Calcium, Vitamin D, Vitamin C, Iron and B Vitamins.
Calcia Calcium with Vitamins and Iron Helps Maintain Strong Bones and a Healthy Body Calcia original is a unique formulation of calcium to help build and maintain strong bones with key vitamins and iron essential for a healthy body. Although we stop growing in height in our late teens, our bones continue to strengthen and thicken well into our mid thirties. After this time we start to lose calcium from our bones faster than we can replace it, especially around the time of the menopause. An excessive loss of bone tissue (bone density) can lead to an increased risk of bone fractures, particularly as we get older. Supplementing your diet with calcium may help keep bone density levels high. Your diet may not provide the calcium you need, particularly if you do not eat dairy products, miss meals, smoke, or drink excess alcohol. Calcia provides the optimum amount of calcium (equivalent to over 1 pint of milk) with Vitamin D to aid its absorption. Research shows that a balanced intake of calcium throughout life is crucial for the healthy development and maintenance of your bones. In addition, it contains iron and vitamin B12 for healthy blood formation, with Vitamin C to help absorb the iron. Vitamin B1, B2 and B6 are also included to help maintain your hormone balance and help in the release of energy from food .
Calcia has a uniquely pleasurable taste and texture. It's smooth and non-chalky, without any unpleasant aftertaste. Because of its unique formulation, Calcia can either be chewed or left in your mouth to dissolve like a lozenge.
Calcia is made with calcium carbonate which is a safe, highly absorbed form of calcium. Also, unlike calcium citrate, calcium carbonate is less likely to cause gastric reflux (heartburn). The other type of calcium is Coral calcium. This is simply calcium carbonate mined from coral; it offers no advantage over calcium carbonate.
Vitamin D plays a critical role in the absorption of Calcium. Our bodies produce Vitamin D through exposure to sunlight. Not surprisingly, vitamin D deficiency is common amongst Canadians, since we tend to lack consistent exposure to sun for many months of the year. No other Canadian calcium supplement offers you more vitamin D than Calcia™ 400. Calcia™ only uses vitamin D3, the most active form of vitamin D available. Relax, and take comfort in the fact that you're not only getting the calcium you need, but you're also getting the vitamin D your body needs to absorb it.
Helps maintain strong bones and a healthy body
Easy to swallow tablets
Recommended for women of all ages
Suitable for vegetarians
Directions
Adults:
Take 3 tablets a day with meals.
Tablets can be taken all at once or throughout the day
Warnings
This product contains iron which, if taken in excess may be harmful to very young children.p
Ingredients
Calcium carbonate, maltodextrin, cellulose, ferrous sulphate dried, hypromellose, ascorbic acid preparation, corn starch, silicon dioxide, colour (titanium dioxide), talc, magnesium stearate, vitamin D3 preparation, pyridoxine hydrochloride, thiamine mononitrate, riboflavin, vitamin B12 preparation
You may also like