Care Eucalyptus Oil 25ml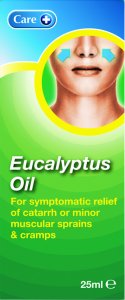 Care Eucalyptus Oil 25ml
£1.69 Save: £0.44 RRP: £2.13
Brand: Care
Code: 1038900
Weight: 28g (includes packaging)
Description
Care Eucalyptus Oil BP has been designed to be a hard hitting, fast and effective relief formula for coughs, colds and blocked noses.
Care Eucalyptus Oil BP is renowned for its pleasant, gentle and caring formula which contains Eucalyptus oil 10 %v/v for quickly and effectively relieving those who are suffering from all the classic symptoms of a cold.
Care Eucalyptus Oil BP comes in this 25ml bottle that is always ready and eager to fight off those nasty germs and giving you to the strength to carry on with life.
Directions
This product is recommended for adults and children over 1 year. Do not take by mouth. For catarrh by inhalation: sprinkle a few drops onto a handkerchief and inhale the vapour as required. Alternatively, add a few drops to hot water and inhale the steamy vapour as required. For sprains and cramps: apply it to the skin. Sprinkle a few drops onto your hand and massage into the affected area.
Warnings
Do not use the medicine if you or your children have an allergy to eucalyptus oil or a child is under 1 year old. Side effects: Like all medicines, Eucalyptus Oil can have side effects, although these don't affect everyone. Side effects are: skin reactions such as itching, rashes or eczema may occur. Inhalation may trigger hay fever or an asthma attack, if you already have allergies. If you note these or any other side effect, stop use and tell your doctor or pharmacist. Keep out of the reach and sight of children.
You may also like