Care Lavender Oil 10ml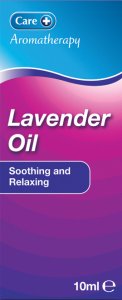 Care Lavender Oil 10ml
£2.49 Save: £0.96 RRP: £3.45
Brand: Care
Code: 1056407
Weight: 11g (includes packaging)
Description
Lavender is one of the most widely used essential oils due to its calming and soothing properties, which helps to promote rest and relaxation.
The most versatile and useful oil, Lavender has an abundance of uses. It relaxes and soothes the mind & body, and is number one for use in your first aid kit at home. It can be used neat on wounds & burns but care should still be taken. Lavender blends very happily with many other oils.
It can be used as an insect repellent, to scent linen and deter moths. A very soothing oil. For example, it neutralises insect bites and stings (bees, wasps and mosquitoes) It is also good in cases of nettle rash.
Lavender Oil can also be useful for dandruff when added to a base shampoo.
When added to a Carrier Oil it can be used in massage to help with PMT or just as a lovely calming rub.
Lavender can be used as a massage, in a vapouriser, in bath preparations and on a pillow.
Directions
How to use
Massage
Aromatherapy massage has long been used to help promote relaxation and reduce stress. Massaging with essential oils enables relaxation and a feeling of well-being leading to a reduction in stress and anxiety.
For an aromatherapy massage using Care Lavender Oil, dilute up to five drops of pure essential oil in 10ml of carrier oil (e.g. Care Almond Oil)
Bath
For a relaxing and therapeutic bath, dilute up to five drops of pure essential oil in 10ml of carrier oil, then pour under running water to diffuse the oil.
Inhalation
Disperse 3-4 drops to a bowl of hot water. With a towel covering your head and your eyes closed, inhale the vapour for a few minutes.
Vapourisation
Follow manufacturers instructions for using pure essential oils in burners or diffusers.
Warnings
Precautions
If you suffer from epilepsy, skin allergies or are pregnant seek professional advice before use. Do not use on broken skin. Do not swallow. Asthmatics should not inhale essential oils. Avoid contact with your eyes. Essential oils are flamable, do not put on or near naked flame.
Ingredients

Ingredients: Lavender oil
You may also like