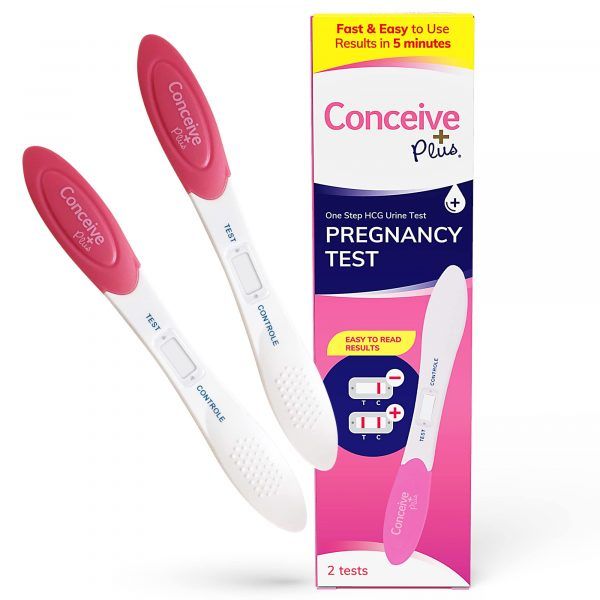 Conceive Plus Pregnancy Test Pack of 2
This product is typically dispatched within 3-5 working days from date of order and is not suitable for our next day delivery service.
Description

Whether you are experiencing early pregnancy symptoms, or your period is a few days late, this at-home pregnancy test is a good place to start. Conceive Plus offers a pregnancy test set that is accurate and sensitive enough to test 6 days before your missed period.

Early Detect Pregnancy Test: The Conceive Plus early pregnancy test is designed for your convenience. It provides rapid results up to 6 days before your next period and saves you the guesswork about whether you are pregnant or not.
Results In Just 1-3 Minutes: Wondering if you are pregnant can feel like some of the longest of your life. Our at-home pregnancy test can give you a fast answer to the big question you're asking in a matter of minutes.
Easy To Use And Convenient: This midstream pregnancy test kit is super-easy to use: hold the absorbent tip in your stream of urine, or collect your urine in a clean cup, dip half of the absorbent tip in it and get a reliable result.
99% Accurate Pregnancy Test: Our pregnancy test is proven efficient in detecting pregnancy hormone levels with 99% accuracy. It detects as little as 10 MIU of hCG for early pregnancy and provides a rapid positive or negative result.
Great Value Pregnancy Kit: We offer you 2 complete pregnant test kits at an affordable price. If the first pregnancy test is negative, it might be too early to tell if you are pregnant. Try waiting a few days, then check again with the second test.
Directions

Remove the test device from the pouch and take off the cap under room temperature.

Holding the device, urinate into absorbent sampler for 10 seconds until thoroughly wet.

Recap the device and keep flat.

positive results may be read as soon as 1 minute. Negative results must be confirmed after 3 minutes.
Warnings

Do not freeze.

For in-vitro diagnostic use.

Not intended for internal use.

Single use only.

Keep out of reach of children.

Not for contraceptive use.

Do not use if foil wrapper containing the test is damaged.
You may also like