Cow & Gate Follow On Milk 900g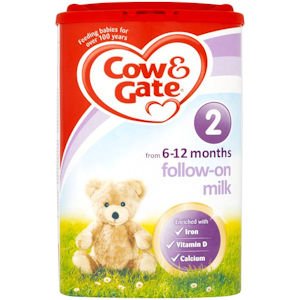 Cow & Gate Follow On Milk 900g
£9.49
Brand: Nutricia
Code: 3105863
Weight: 900g (includes packaging)
Description
Cow and Gate Follow On Milk 6 Months+ 400g (Number 3) is nutritionally designed to compliment weaning and is easily digested.
Cow and Gate Follow On Milk 6 Months+ 400g (Number 3) contains added iron and vitamin D now their natural iron stores are starting to run low, as well as prebiotics, keeping them happy, healthy and ready for anything.
Cow & Gate Complete Care Follow-on Milk provides more of the key nutrients needed to support your baby's food diet from 6 months, including more iron to support their brain development and more vitamin D for healthy first teeth and bones. And because it's easy to digest, it's also gentle on your baby's tummy.
Directions
Feeding guide 6-24 months.
Follow-on milk for babies six mths+ can be used as a drink or mixed with other foods. From six months, your baby will need about 1 pint (600ml) of follow-on milk per day. Cow & Gate's follow-on milk is specially formulated to help meet the increased nutritional needs of infants from 6 to 24 months.
Your baby may need more or less than the feeding guide above.
This information is given as a guide only.
1 scoop = 5.0g.
The UK Department of Health and the Food Safety Authority of Ireland recommend that cows' milk is not given as your baby's main milk drink until after 12 months as cows' milk contains very little iron or vitamins C and D. Follow-on milks can be used beyond 12 months to support a balanced diet.
How to prepare.
Failure to follow instructions may make your toddler ill.

Wash hands and sterilise all utensils according to manufacturers' instructions.

Boil freshly run water. Leave kettle to cool for 30 minutes. Do not use artificially softened or repeatedly boiled water.

Measure the required amount of water (refer to feeding guide) into a sterilised beaker. Do not add powder to boiling water due to risk of scalding.

Always use the scoop provided. Level off the powder with the built-in leveller. Do not press/heap the powder.

Add one scoop to every 30ml (1 fl oz) of boiled cooled water. Add the correct number of scoops to the water. Adding too many or too few scoops can be harmful.

Mix well (for 10 seconds) to dissolve powder. Replace lid on beaker.

Cool under running tap. Check temperature of feed. Feed immediately.
Warnings
Use within 4 weeks of opening and store in a cool dry place.
Do not refrigerate.
For hygiene reasons, do not store made up feeds. Make up each feed as required and always discard unfinished feeds after 2 hours.
If necessary offer cooled boiled water between feeds. Do not heat in a microwave . Hot spots may occur and cause scalding.
Infants should be supervised at all times when feeding. Never leave your baby alone during feeding.
Ingredients
Lactose (from milk), Skimmed milk, Vegetable oils (Palm oil, Rapeseed oil, Coconut oil, Sunflower oil), Galacto-oligosaccharides (GOS) (from milk), Fructo-oligosaccharides (FOS), Calcium carbonate, Potassium chloride, Vitamin C, Choline chloride, Taurine, Emulsifier (soy lecithin), Iron sulphate, L-tryptophan, Inositol, Vitamin E, L-isoleucine, Uridine 5'-monophosphate sodium salt, Zinc sulphate, Cytidine 5'-monophosphate, L-cysteine hydrochloride, Adenosine 5'-monophosphate, Inosine 5'-monophosphate sodium salt, Niacin, Guanosine 5'-monophosphate sodium salt, L-carnitine, Pantothenic acid, Folic acid, Copper sulphate, Vitamin A, Biotin, Thiamin, Vitamin D3, Vitamin B12, Vitamin B6, Manganese sulphate, Potassium iodide, Vitamin K1, Sodium selenite.
You may also like