Cow & Gate Growing Up 1-2 Years Milk Powder 900g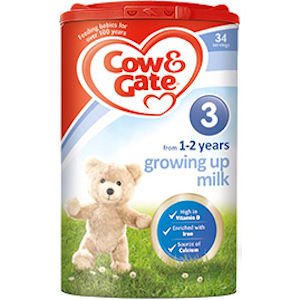 Cow & Gate Growing Up 1-2 Years Milk Powder 900g
£8.90
This product is limited to 2 per order.
Delivery options for this product have been restricted. More details about the delivery options available will appear if you add this product to your basket.
This product is typically dispatched within 3-5 working days from date of order and is not suitable for our next day delivery service.
Brand: Nutricia
Code: 3329760
Weight: 900g (includes packaging)
Description
From 1 year, your toddler will need about 2 x 150ml of Growing Up Milk per day as part of a balanced diet. Cow & Gate Growing Up Milk is specially formulated to help meet the nutritional needs of toddlers between 1-2 years, providing them with the hard-to-get nutrients to grow and develop. It can be used as a drink or mixed with other foods.
Crawling, walking, even running – however your toddler gets around, it's hard work! Of course, it's not just physical activity that requires extra nutrients; there's a lot of mental development happening too. We've made a milk with the nutrients needed to fuel both their growing bodies and their brilliant brains.
Just 2 x 150ml beakers a day help provide the hard-to-get nutrients your toddler needs:
vitamin D - for strong bones
omega 3 - an essential fatty acid
iron - for brain development
The EaZypacks are easy to open and use with one hand. They contain a measuring scoop and powder leveller inside, providing everything you need in one place.
Directions
Because powdered milks are not sterile, failure to follow instructions may make your toddler ill.
For hygiene reasons do not store made up milk drinks. Make up each feed as required, and discard unfinished drinks within 2 hours.
Do not heat in a microwave, hot spots may occur and cause scalding.
Do not leave your toddler alone whilst eating and drinking.
Measure 150ml or 5floz boiled, cooled water into a clean beaker.

Using the scoop provided, add 5 levelled scoops of powder into the beaker.

Replace clean lid on beaker. Mix well for 10 seconds to dissolve powder.

Check temperature of drink. Feed immediately.
Warnings
The information is given as a guide only. Consult your healthcare professional if you require more advice.
Use within 4 weeks of opening and store in a cool dry place.
Do not refrigerate.
For hygiene reasons, do not store made up feeds. Make up each feed as required and always discard unfinished feeds after 2 hours.
If necessary offer cooled boiled water between feeds. Do not heat in a microwave . Hot spots may occur and cause scalding.
Infants should be supervised at all times when feeding. Never leave your baby alone during feeding.
Ingredients
Demineralised whey*, Vegetable oils, Skimmed milk*, Maltodextrin, Lactose*, Galacto-oligosaccharides* (GOS), Whey protein concentrate*, Fructo-oligosaccharides (FOS), Calcium phosphate, Calcium carbonate, Potassium citrate, Vitamin C, Sodium citrate, Magnesium chloride, Taurine, Choline chloride, Emulsifier (soya lecithin), Vanilla flavouring (vanillin), Potassium chloride, Iron sulphate, Zinc sulphate, Vitamin E, Niacin, Pantothenic acid, Folic acid, Vitamin D3, Copper sulphate, Vitamin A, Biotin, Thiamin, Vitamin B6, Vitamin B12, Potassium iodide, Manganese sulphate, Vitamin K1, Sodium selenite.
Contains: *Milk, Soya
You may also like