Daktarin Cream 2% 30g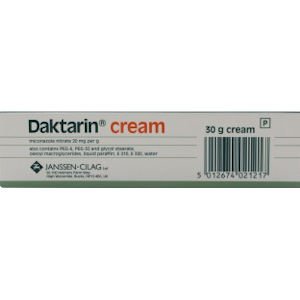 Daktarin Cream 2% 30g
£2.49
3 sold in the last hour!
This product is typically dispatched within 1-3 working days from date of order when using our standard delivery or 48 Hour Tracked and Signed service.
Brand: Daktarin
Code: 0423210
Weight: 80g (includes packaging)
Description
Daktarin CreamMiconazole Nitrate 2% contains a medicine called miconazole. This belongs to a group of medicines called 'antifungals'. Daktarin cream is used for infections of the skin or nails caused by fungi including yeasts, and some bacteria. Infections may appear on the:
Trunk

Hands or feet

Scalp or outer ear

Groin
How does Daktarin Cream work?
Daktarin cream works by destroying the fungus that causes the infection and some of the bacteria which may also be present. It is also used to treat infected nappy rash.
How is Daktarin Cream taken?
Daktarin Cream is for external use only. Each time you use the cream you should wash the infected skin and dry it well. Apply the cream as directed by your doctor. After applying the cream, unless the infected skin is on your hands, wash your hands carefully to avoid spreading the infection to other parts of the body or to other people.
How soon will Daktarin Cream work?
The effects of Daktarin Cream may start to be seen quickly but it is important to continue using Daktarin Cream for up to 10 days after the symptoms have cleared to prevent them from coming back.
What are the common side effects with Daktarin Cream?
Daktarin Cream is usually well tolerated. Occasionally, irritation of the skin may occur.
Daktarin Cream Miconazole Nitrate 2% - Always use Daktarin cream exactly as your doctor has told you. You should check with your doctor or pharmacist if you are not sure.
Directions
Each tube of Daktarin cream is sealed. You will need to use the cap to pierce the seal
Rub the cream gently into the affected area and surrounding skin with clean fingers
Do not put Daktarin cream into or near the eyes - it is for use on the skin and nails only
Do not swallow the cream
For skin infections:
Use the cream twice a day - once in the morning and again at night
For nail infections:
Use the cream once or twice a day. Your doctor will tell you which one
Warnings
Unless the affected skin is on your hands, wash your hands with soap and water after using the cream. Washing your hands after using the cream will stop you spreading the infection to other parts of your body or to other people
Do not allow other people to use your flannel or towel. This will stop them from getting your infection
Clothing that touches infected skin should be washed and changed often. Daktarin cream is non-greasy and should not stain clothes
Keep using the cream for 10 days after all signs of infection have gone away. This will stop the infection from coming back.
If you swallow any cream, talk to a doctor or go to the nearest hospital casualty department straight away.
Do not apply the missed dose of cream. Apply the next dose of cream as usual and keep using the cream as your doctor has told you. Do not use a double dose of cream to make up for a missed dose
If you have any further questions on the use of this product, ask your doctor or pharmacist.
Do not use Daktarin cream If you are allergic to anything in Daktarin cream.
Do not use this medicine if the above applies to you. If you are not sure, talk to your doctor or pharmacist before using Daktarin cream.
Please tell your doctor or pharmacist if you are taking or have recently taken any other medicines. This includes medicines that you buy without a prescription or herbal medicines. In particular tell your doctor if you are taking:
Medicines to thin the blood (anticoagulants) such as warfarin. Your doctor may check that the anticoagulant is working properly
Please tell your doctor before using Daktarin cream if you are pregnant, think you may be pregnant or might become pregnant. You may still be able to use Daktarin cream if your doctor thinks you need to. Talk to your doctor before using this medicine if you are breast-feeding.
Ask your doctor or pharmacist for advice before taking any medicine if you are pregnant or breast-feeding.
Daktarin cream is not likely to affect you being able to drive or use any tools or machines.
Daktarin cream contains benzoic acid (E210). This can irritate your eyes, eyelids, mouth and nostrils if it comes into contact with them
Daktarin cream also contains butylated hydroxyanisole (E320). This can cause local skin reactions (e.g. contact dermatitis), or irritation to the eyes and mucous membranes.
You should carefully read all product packaging and labels prior to use
Like all medicines, Daktarin cream can cause side effects, although not everybody gets them.
Stop using Daktarin cream and tell your doctor straight away if you notice the following. You may need medical treatment.
Very rare (affects less than 1 in 10,000 people): Sudden swelling of the face or throat. Hives (also known as nettle rash or urticaria), difficulty breathing, severe irritation, reddening or blistering of your skin. These may be signs of a severe allergic reaction
Tell your doctor or pharmacist if you notice any of the following side effects:
Very rare (affects less than 1 in 10,000 people): Burning sensation, itching, redness, or rash on the skin

Rare (affects less than 1 in 1,000 people): Local irritation of the treated area. This is much milder than an allergic reaction
If you get any of these side effects, or other side effects not listed in this leaflet, tell your doctor or pharmacist straight away.
Ingredients
Miconazole nitrate 2 % w/w.
You may also like