Dioraleze Capsules Pack of 6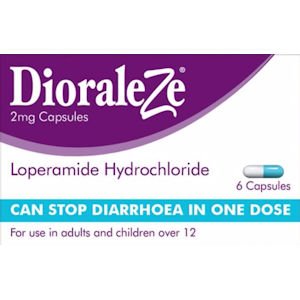 Dioraleze Capsules Pack of 6
£2.79 Save: £0.70 RRP: £3.49
Brand: Dioraleze
Code: 3976909
Weight: 100g (includes packaging)
Description
DioraleZe 2mg Capsules are able to stop diarrhoea within one hour with just one dose as they are fast acting. It has been clinically proven to provide you with fast and effective relief from diarrhoea and its symptoms.
Loperamide makes the stools firmer and less watery. It also helps to reduce the number of times you need to run to the toilet.
Directions
The capsules should be swallowed whole with a drink of water.
After the first loose stool (bowel motion) take 2 capsules with water.
After each further loose stool, take 1 capsule.
Warnings
Do not give to children under 12 years of age.
Do not take more than 6 capsules in any 24 hours.
Do not take the capsules for more than 24 hours unless advised by a doctor.
If symptoms persist for more than 24 hours consult your doctor.
Ingredients
Loperamide Hydrochloride 2mg, Lactose, Maize Starch, Talc, Magnesium Stearate, Gelatin, Quinoline Yellow (E104), Erythrosine (E127), Patent Blue (E131) and Titanium Dioxide (E171).
You may also like