Elvie Pelvic Floor Trainer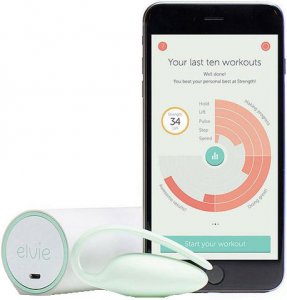 Elvie Pelvic Floor Trainer
£169.00
This product is typically dispatched within 3-5 working days from date of order and is not suitable for our next day delivery service.
Brand: Elvie
Code: 5551117024
Weight: 425g (includes packaging)
Description
Elvie Pelvic Floor Trainer uses biofeedback technology, shown to be the most effective way of training the pelvic floor, and can even detect if you are exercising incorrectly so that you get it right.
Strengthen and tone your pelvic floor with the world's smallest and smartest Kegel trainer.
The pelvic floor is a powerful set of muscles that sits like a hammock between the tailbone and pubic bone, supporting and holding all of your central organs in place. They play an important role in women's health, including sexual and emotional wellbeing. These hidden but very important set of muscles lifts and holds your core, affecting core stability, bladder control and even sex.
Pelvic floor problems are surprisingly common, affecting 1 in 3 women, and up to 80% of expectant and new moms. A weak pelvic floor can be a result of genetics, high-impact sport, aging, pregnancy and childbirth. Often this presents as bladder control issues, ranging from occasional leaks when you laugh, sneeze or jump to the unpredictable and urgent need to pee.
Other symptoms include lower-back pain, poor posture and, in more advanced cases, organ prolapse. Fortunately, there is usually plenty that can be done to limit and even prevent symptoms all together.
Kegels are targeted exercises that train and strengthen the pelvic floor muscles. Regular Kegel training improves bladder control, core strength and intimate health. They also help support pregnancy and speed up postnatal recovery, as well as reducing the risk of prolapse.
So whether you're looking to sort your symptoms, avoid issues down the line or for more control and stronger orgasms during sex, you'll be glad you did your Kegels.
Kegels are easy enough in theory. Women are often told to contract their pelvic floor muscles (the ones that you use to stop your pee mid-flow) in a series exercises, several times a day.
Compatibility
iPhones 4s, 5, 5C, 5S, 6, 6 Plus, 6S, 7, Android 4.3 (Jelly Bean) and above. Bluetooth 4.0 / Bluetooth Low Energy / Bluetooth Smart Ready
2 year manufacturer's warranty.
Box includes:
Quick start guide
Carry case protects your kegel trainer and doubles up as a charger
Kegel trainer
Optional cover provides custom sizing for a better fit
Micro USB charging cable connects the carrying case to a USB power supply for charging
Directions
Clean with warm, soapy water. Rinse thoroughly.
Follow the guide contained in the packaging.
Warnings
1 hour charge time, 1 month battery life (normal use)
Ingredients
Medical grade silicone. Latex and rubber free.
You may also like