Endekay Dental Floss Mint 25m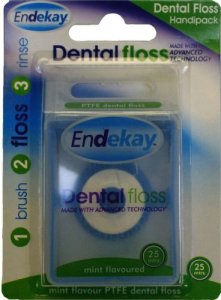 Endekay Dental Floss Mint 25m
Description
Endekay Mint Dental Floss is easy to use; it helps reach spaces between the teeth that tooth brushes cannot reach. These areas are prime targets for the build up of plaque, which if left untreated will lead to gum disease.
Endekay Dental Floss makes daily flossing easier in the morning or evening and helps your teeth and gums stay healthy.
Endekay Dental Floss comes in a compact case and is:
Easy to use
Designed to glide between teeth without shredding
Proven to remove plaque and improve gum health
Designed to avoid irritation
Directions
Bridges, Braces, Implants and Wide Spaces:
Thread the floss between teeth and appliance or through wide spaces. Use a soft back-and-forth motion to remove plaque. Gently slide the floss UNDER THE GUMLINE. Use an up-and-down motion to remove plaque.
Regular Teeth:
Gently slide floss between teeth and UNDER THE GUMLINE. Clean under the gumline as directed above.
Use a fresh section of floss for every tooth.
Warnings
There are no warnings listed for this product.
Ingredients
There are no ingredients listed for this product.
You may also like