Erasmic Shaving Stick 50g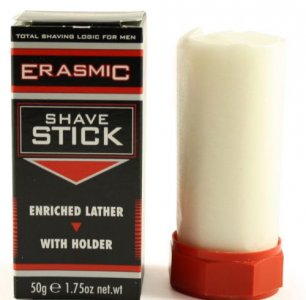 Erasmic Shaving Stick 50g
Description
Erasmic shave stick is an extra-rich formula to soften the beard swiftly and efficiently. Extra-creamy foam gives the ultimate comfort in shaving. Its pleasing aroma is fresh, yet stylish. Includes a plastic holder for convenient application.
Directions
To use Erasmic Shave Stick:
Wash face with warm water rinse and leave wet.
Rub end of stick on wetted beard area.
Lather up on face wet brush
Shave, using a wet razor frequently while shaving.
Rinse face throughly with warm water and pat dry
Warnings
Avoid contact with eyes. If contact occurs, rinse thoroughly with clean water.
Ingredients
Sodium gallowate, sdium pal kernelate,aqua, potassium stearate, sodium stearate,.potassium cocoate, sodium cocoate, glycerin, parfum,titanium dioxide,sodium chloride , peg-14m tetra-sodium edta, sodium gluconate, sodium silicate , magnesium sulfate, tetrasodium etidromate.
You may also like