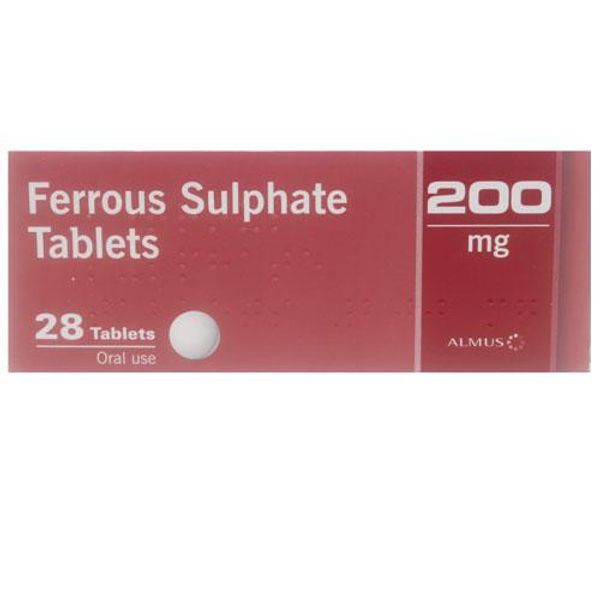 Ferrous Sulfate 200mg Tablets Pack of 28
£1.89
This product is typically dispatched within 1-3 working days from date of order when using our standard delivery or 48 Hour Tracked and Signed service.
Ferrous Sulfate Tablets are iron supplements used for the prevention and treatment of iron-deficiency and anaemia. Iron is a vital mineral for the body to produce red blood cells and maintain good health.
Description

Ferrous Sulfate is one of a group of medicines called iron supplements. These medicines work by replacing body iron. Iron is a mineral that the body needs to produce red blood cells. When the body does not get enough iron, it cannot produce the number of normal red blood cells needed to keep you in good health. This condition is called iron-deficiency anaemia. Ferrous Sulfate Tablets are used for the prevention and treatment of iron-deficiency anaemia.
Directions

Always take this medicine exactly as your doctor has told you. Check with your doctor or pharmacist if you are not sure.

Swallow the tablets whole with water. Do not suck, chew or keep the tablet in your mouth.

Although iron preparations are best absorbed on an empty stomach, they may be taken after food to reduce gastrointestinal side effects.

Adults and the elderly: Treatment: one tablet, two to three times daily. Prevention: one tablet a day.

Children 6-12 years: Treatment: Children weighing over 22kg: one tablet a day. Children weighing over 44kg: one tablet twice a day. Children weighing over 66kg: one tablet three times a day.

Children under 6 years or weighing less than 22kg: Not recommended.
Warnings

Keep out of the sight and reach of children.

If you forget to take Ferrous Sulfate tablets: Do not take a double dose to make up for a forgotten dose. If you forget to take a dose take it as soon as you remember it and then take the next dose at the right time.

Do not take Ferrous Sulfate tablets if you:

are allergic to dried ferrous sulfate or any of the other ingredients of this medicine
are receiving repeated blood transfusions
are receiving iron intravenously
have a disorder in which there is excessive absorption and storage of iron such as haemosiderosis or haemochromatosis
notice blood in your urine (paroxysmal nocturnal haemoglobinuria)
have an active stomach ulcer (peptic ulcer)
suffer from inflammation which causes abdominal pain or diarrhoea (ulcerative colitis) or any other inflammatory condition of the bowels (regional enteritis)
suffer from haemolytic anaemia (anaemia due to destruction of red blood cells)
are already being treated with iron supplements

Ferrous Sulfate tablets should not be taken within one hour before or two hours after eating or drinking the following products: tea, milk, eggs and whole grains. These products can reduce the absorption of iron. Meat and products containing vitamin C can increase the absorption of iron. Follow the advice of your dietician or doctor when taking Ferrous Sulfate tablets with any of the food or drink listed.

If you are pregnant or breast-feeding, think you may be pregnant or are planning to have a baby, ask your doctor or pharmacist for advice before taking this medicine. During the first 12 weeks of pregnancy only take this medicine if your doctor has specifically recommended it. For the remainder of the pregnancy Ferrous Sulfate tablets can be taken to prevent iron deficiency.
Ingredients

The active substance is dried ferrous sulfate BP. Each tablet contains 200mg dried ferrous sulfate BP equivalent to 65mg ferrous iron.

The other ingredients are spray dried liquid glucose, stearic acid, magnesium stearate, microcrystalline cellulose (101) (E460), lactose granules containing lactose, maize starch, pregelatinised maize starch, purified talc (E553), acacia (E414), gelatin, sucrose, titanium dioxide (E171) and yellow carnauba wax.
You may also like