Fixodent Fresh Denture Adhesive Cream 40ml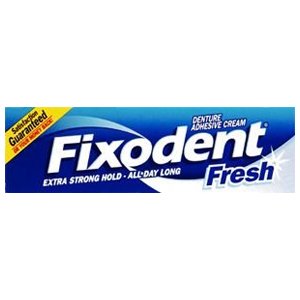 Fixodent Fresh Denture Adhesive Cream 40ml
£2.69 Save: £0.67 RRP: £3.36
Brand: Fixodent
Code: 2534451
Weight: 55g (includes packaging)
Description
Fixodent Fresh Denture Adhesive Cream is a denture adhesive intended to stick the denture to the gum so that denture dislodgements are minimised. Fixodent guarantees strong, long holding power so you can laugh, talk, eat and drink with comfort and confidence. It helps hold your dentures strong all day, helps stop food particles from getting under your dentures and provides comfort by cushioning the dentures.
Fixodent Fresh - Get a cool, clean feeling with Fixodent Fresh. It doesn't interfere with the taste of food, and it guarantees a great fit and a strong, long hold.
Why Choose Fixodent adhesives?
It is normal for even well-fitting dentures to move a little when you're doing everyday activities such as eating and talking. This may feel strange and even make your gums sore. Denture adhesive products can improve the fit and feel of your dentures.
A denture adhesive will help to:
Reduce denture movement and prevent sore gums
Increase the hold of your dentures and allow you to bite harder
Cushion your gums and make your dentures feel more comfortable
Provide a seal along the edges of the denture, which will help prevent food from getting trapped under the dentures versus no adhesive.

Directions
To apply adhesive:
Clean and dry dentures thoroughly before applying Fixodent.
Apply Fixodent to dentures in strips or series of dots. Start with a small amount at first. Do not apply too close to denture edges.
Press dentures firmly in place and hold briefly. You are using too much if product oozes after inserting dentures.
Many denture wearers find one use a day is sufficient. If you are using Fixodent more than twice a day or have problems with your denture hold, consult your dentist about the fit of your dentures.
See your dentist regularly to ensure properly fitting dentures. Poorly fitting dentures may impair your health.

Warnings
Do not use more adhesive than required. Do not use more than once a day. Do not use excess products for poorly fitting dentures. Keep out of the reach and sight of children. Do not use if hypersensitive to any of the ingredients.
Ingredients
Calcium/Zinc PWM/MA Copolymer, Paraffinum Liquidium, Cellulose Gum, Petrolatum, Silica, Menthyl Lactate, CI 14720, Aroma, Menthol, CI 16185, Limonene.
You may also like