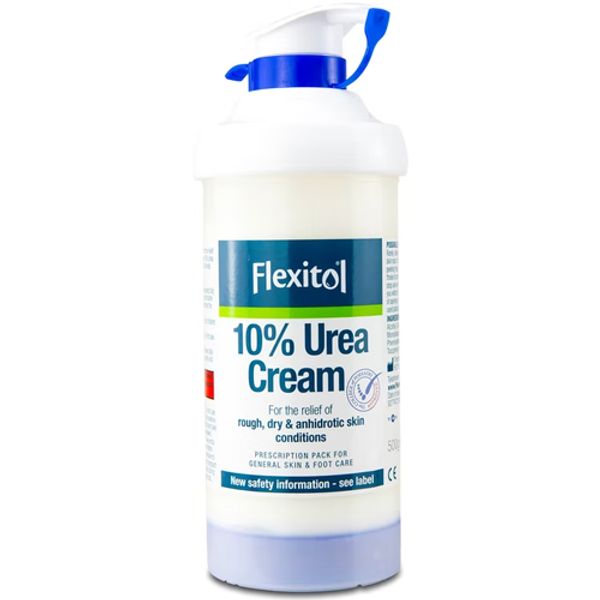 Flexitol 10% Urea Cream 500g
£16.99
This product is typically dispatched within 3-5 working days from date of order and is not suitable for our next day delivery service.
Description

Flexitol 10% Urea Cream has been formulated for the relief of rough, dry and anhidrotic skin conditions. It contains 10% Urea in a blend of emollients and skin conditioning agents to provide moisturisation and hydration.
Directions

Prime the pump before first use by depressing fully until cream appears.

For use on external skin.

Recommended for adults and children over the age of 1 year.

Wash and dry hands before and after use.

Apply enough to cover the affected area, one to three times daily or as directed by your healthcare practitioner, smooth gently into the skin.
Warnings

Fire hazard. Do not smoke or go near naked flames; clothing & bedding with this product dried on them can catch fire easily. Washing clothing and bedding may reduce product build-up but not totally removing it.

For external use only.

Do not use on genitals or other areas of sensitive skin.

Do not use on skin that is badly cracked, infected or bleeding.

Do not swallow. If accidently swallowed, seek immediate medical advice and take the pack with you to show which product has been swallowed.

Avoid contact with eyes.

Treated feet may be slippery. Take extra care when walking on smooth surfaces.

Not for use on children under 1 year, except on medical advice.

Do not use if sensitive to any of the ingredients.

Seek medical advice before use if pregnant or breastfeeding.

Stop use if skin irritation or rash occurs during use.

Do not use at the same time as other skin care products.
Ingredients

Purified Water, Urea (10% w/w), Lanolin, Cetostearyl Alcohol, Glycerine, Dimeticone, Paraffin oil Light, Glyceryl Monostearate, Decyl Oleate, PEG-20 Stearate, Phenoxyethanol, Sodium PCA, Shea Butter, Panthenol, Tocopheryl Acetate, Benzyl Alcohol, BHT, Perfume.
You may also like