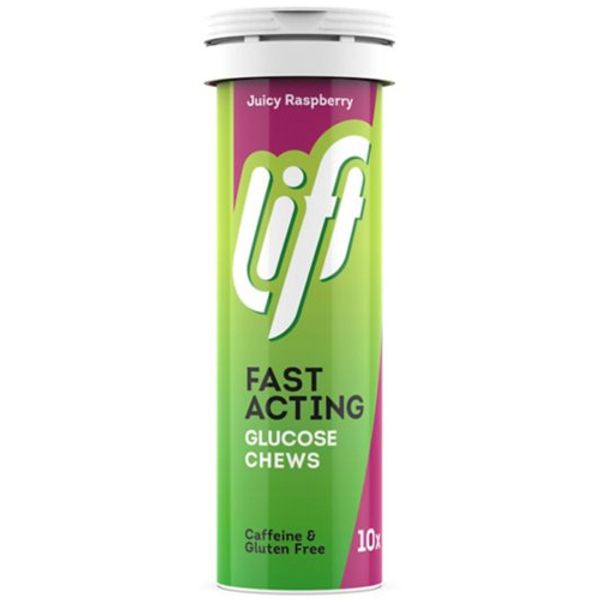 Lift Dextrose Tablets Raspberry Pack of 10
This product is typically dispatched within 3-5 working days from date of order and is not suitable for our next day delivery service.
Description

Boost energy levels fast

Sports Enthusiasts

Fuel your energy for a quick performance boost before and during high endurance activity.

It is recommended to take two LIFT 10-15mins prior to participating in high endurance activity lasting for 30mins or longer, continue as required every 30mins.

People with Active Lifestyles

Stimulate your mind and body to stay on top of your active demands.

It is recommended to take two LIFT if you are feeling fatigued or tired during the day and you need to stay fresh and alert to keep up with your busy schedule.

Products are frequently used on the go, therefore the robust, light and pocket size packaging makes LIFT easy to carry and consume. These compact energy boosters helps promote that 'feel good factor' raising energy levels, prompting confidence and drive to carry on.

Boost sugar levels fast

People with Diabetes

Self-manage to treat mild hypoglycaemia and regulate blood sugar levels. The National Institute of Clinical Excellence (NICE) guidelines recommend that 10-20g of fast acting carbohydrates is taken to initially treat hypoglycaemia - this means you should take between three and five LIFT to treat mild hypoglycaemia, and repeat 10-15 minutes later if needed.

"The first step to treatment of low blood sugar, or hypoglycaemia, should be glucose because it's the most quickly digested form of sugar and will raise blood glucose levels rapidly"

Professor Anthony Barnett, Professor of Medicine and Consultant Physician, University of Birmingham, and Head of Endocrine and Diabetes Services, Heart of England NHS Foundation Trust.

Products are used as a trusted, emergency treatment, therefore the robust, easy to open packaging makes LIFT perfect to carry for long durations and consume quickly when needed. These potential life saving sugar boosters have clearly marked dosages on pack so patients can confidently manage their condition, providing reassurance and peace of mind.

Give yourself a BOOST when you need it MOST!

LIFT are the ultimate in FAST ACTING glucose to give your body a BOOST!

Dextrose can be used immediately by your cells. Other sugars, such as sucrose, have to be broken down by the body before they can be absorbed which means they don't act as quickly. Dextrose is highest on the glycaemic index, meaning it will cause your blood glucose levels to rise rapidly - this is why it is widely recommended by healthcare professionals and championed by sports enthusiasts.
Directions

4g of measured fast acting glucose per tablet - more than other leading brands
Stay fresh, refillable 10pk tubes
Air tight spiral shock absorber lids for protection
Compact size for handbags and sports bags
Distinct tube packaging - easy to open and locate in a hurry
Robust packaging protects from moisture - ideal for active and outdoor lifestyles
50 tablet bulk jars for added choice and value

1 tablet = 4g of Fast Acting Glucose

No Artificial Colours or Preservatives

Suitable for Vegetarians & Vegans

Sodium, Caffeine & Gluten Free
Warnings

If you have diabetes it is always best to check your blood glucose before eating LIFT to confirm that your blood glucose is low and that you need to eat extra carbohydrates.
Ingredients

Dextrose Monohydrate (92%), Maltodextrin, Anti-Caking Agent (Magnesium Salts of Fatty Acids), Flavouring, Citric Acid, Fully Hydrogenated Vegetable Fat (Sustainably Sourced Palm Kernel Oil), Emulsifier (Mono- and Diglycerides of Fatty Acids).
You may also like