Due to an unusually high number of orders being received dispatch times may be longer than stated. Please allow up to 10 working days for dispatch.

We are also experiencing a high volume of calls. Please use our contact us page to leave a message and we will get back to you as soon as possible.
Haliborange Vitamins A C & D Pack of 60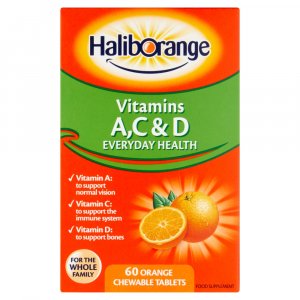 Haliborange Vitamins A C & D Pack of 60
£2.29 Save: £1.70 RRP: £3.99
Brand: Seven Seas
Code: 0349027
Weight: 39g (includes packaging)
Description
For generations children have loved the delicious sunshine tangy orange flavour of Haliborange. You can trust Haliborange to provide specially formulated vitamins for your children. Haliborange A, C & D contains the three most important vitamins for children. Haliborange understands that children's nutrition lays the foundation for future health and eating patterns. A balanced diet helps provide the nutrients essential for healthy growth and development.
Haliborange A,C & D are important for:
Healthy hair, skin and nails.
Helping to maintain good vision.
Maintaining a healthy immune system.
Helping the body absorb iron.D.
Helping to promote strong bones and healthy growth.
Helping the body to absorb calcium.
Some people find it difficult to achieve the recommended five portions of fruit and vegetables daily. Haliborange recognises this and that is why a daily supplement gives you some reassurance and is enjoyed by children.
Free From:
Gluten
Lactose
Dairy
Yeast
Tree Nut (may contain Peanuts)
Artificial Colours
Artificial Flavours
Artificial Preservatives
Directions
Children over three years of age:
Take one tablet a day.
Crunch or chew tablet.
Adults also love the taste and you can follow the same guide.
Do not exceed the recommended intake.
Warnings
Women who are pregnant or planning a pregnancy should consult their doctor before taking vitamin and mineral supplements. Food supplements are intended to supplement the diet and should not be regarded as a substitute for a varied diet and healthy lifestyle.
Store in a cool, dry place.
Keep out of reach of children.
Ingredients
Isomalt,Sucrose,Vitamin C Prep.(Vitamin C, Maize Starch),Sodium Ascorbate,Talc, Aluminium Silicate,Vitamin A Prep. (Sucrose, Fish Gelatin, Corn Starch, Vitamin A, Peanut Oil), Glazing agents: Shellac Prep (Shellac, polyvinylpyrrolidone, Acetylated Monoglycerides), Carnauba Wax; Colours: Titanium Dioxide, Beta Carotene Prep.(Beta Carotene, Gelatin, Maltose,Acacia Gum, Sucrose) Acacia Gum,Vitamin D Prep.(Sucrose, Acacia Gum, Corn Starch, Hydrogenated Soya Bean Oil, Vitamin D) Stearic Acid,Magnesium Stearate,Silicon Dioxide,Gelatin,Flavour: Orange Oil (0.2%),Sweetener: Sodium Saacharin.
You may also like