Due to an unusually high number of orders being received dispatch times may be longer than stated. Please allow up to 10 working days for dispatch.

We are also experiencing a high volume of calls. Please use our contact us page to leave a message and we will get back to you as soon as possible.
Health Perception Glucosamine Joint Flex 500/400mg Tablets Pack of 60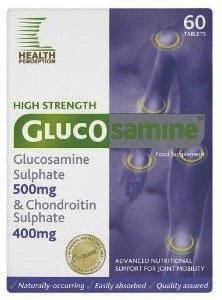 Health Perception Glucosamine Joint Flex 500/400mg Tablets Pack of 60
£14.99 Save: £9.00 RRP: £23.99
Brand: Health Perception
Code: 2492841
Weight: 175g (includes packaging)
Description
Glucosamine is a naturally-occurring, non-toxic biochemical constituent, formed in the body from glucose and L-glutamine.
Chondroitin is found naturally in the body in the form of molecules known as mucopolysaccharides. These molecules attract and hold water, thereby giving cartilage its elasticity and fluidity.
How does Glucosamine & Chondroitin work?

The role of Glucosamine within the body is to act as a precursor or basic building block that lays down the foundation for the regeneration and growth of the connective tissues around the joints.
Chondroitin works with Glucosamine in the body, by behaving like a `liquid magnet` within the joint. Chondroitin actually helps to repel the molecules produced by Glucosamine, and this action creates tiny spaces that form the matrix of the cartilage.
Why should I take Glucosamine & Chondroitin?
Health Perception Glucosamine & Chondroitin products provide the duel effect of both Glucosamine Sulphate KCI and Chondroitin Sulphate, and are therefore relevant for people who have a particular interest in maintaining the health of their joints.
Is Glucosamine & Chondroitin suitable for everyone?
Health Perception`s Glucosamine & Chondroitin are both derrived from a marine source and therefore may not be suitable for vegans and vegetarians, or those who suffer from shell fish-related allergy. The product is suitable for diabetics.
Directions
Directions for use:
Take 1 tablet twice a day with meals.


Ingredients
Glucosamine Sulphate 2KCL 665mg*, Chondroitin Sulphate 400mg (90% purity - marine source).
*665mg Glucosamine Sulphate 2KCL provides 500mg Glucosamine Sulphate.
You may also like