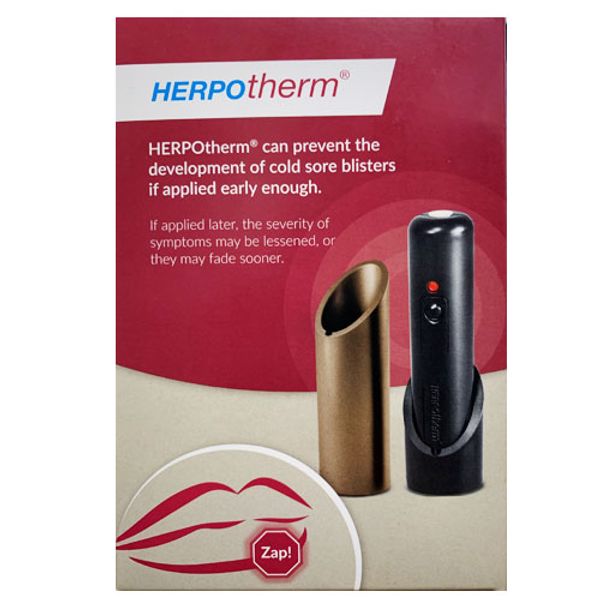 HERPOtherm Cold Sore Heat Pen
This product is typically dispatched within 1-3 working days from date of order when using our standard delivery or 48 Hour Tracked and Signed service.
Description

Cold sores are not only unattractive but can also be very painful. The accompanying symptoms such as burning, tingling, itching or tightness can be relieved with Herpotherm® from the very first application. Herpotherm® is a medical device, which can prevent the development of cold sore blisters if applied early enough.

Free from chemicals - works solely by concentrated heat
Suitable for pregnant women, allergy sufferers and children*
Long-lasting alternative to creams and patches
Easy and practical to use
Dermatologically tested

Herpotherm® works solely by concentrated heat and is thus completely free from chemicals. It is presumed that the heat generated by Herpotherm®, ranging around 51°C, has a positive effect on the release of histamine and degradation enzymes and thus curbs the inflammatory reaction.

Can prevent the development of cold sore blisters completely, if applied early enough
If applied later, the severity of symptoms may be lessened, or they may fade sooner

The application of concentrated heat (local hyperthermia) is a physical mode of action based on a brief, concentrated application of heat to a small, limited area of skin. Even a localised pulse of heat may be sufficient to relieve symptoms such as itching, burning, tingling or tightness.

*self-application from 12 years of age
Directions

First, place the device onto the affected skin area and gently press it against the skin.

After pressing the button, the ceramic contact surface heats up to approx. 51°C.

This temperature is maintained for three seconds, Herpotherm® then switches off automatically.
You may also like