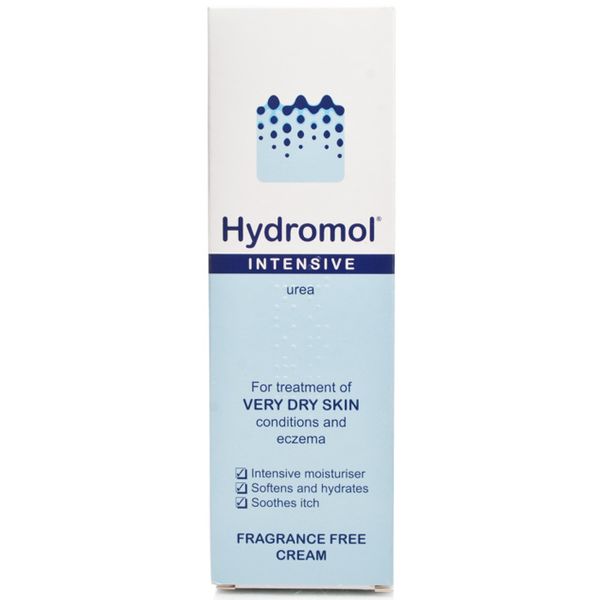 Hydromol Intensive Cream 100g
£6.50
This product is typically dispatched within 3-5 working days from date of order and is not suitable for our next day delivery service.
Description

Hydromol Intensive contains urea, which is the skin's natural moisturiser that is found naturally in the stratum corneum and helps the skin retain its moisture. Hydromol's formula also contains sebum and soft white paraffin, a natural oil that slows down the evaporation of water from the skin's surface, locking in the moisture and preventing the skin from drying quickly. This will also reduce irritation, while restoring your skin's suppleness and improving its appearance.

Dry skin is caused by a lack of water in outer layer of skin cells (stratum corneum) which form the top layer of skin. When this layer becomes dry, it becomes cracked, scaly and itchy. The skin dries out when too much water has evaporated from the surface. This increases as we get older and is made worse from washing with certain soaps.
Directions

Apply cream twice daily to affected areas after washing and drying.

Always use Hydromol Intensive exactly as your doctor has told you to. You should check with your doctor or pharmacist if you are not sure.

Hydromol Intensive is for external use only and should only be applied to the skin. It should not be used on moist or broken skin.
Warnings

Do not use if you are allergic (hypersensitive) to urea or any of the ingredients of Hydromol Intensive.

If the above applies to you, or if you are not sure, speak to your doctor or pharmacist before you use Hydromol Intensive.

Take special care with Hydromol Intensive.

Tell your doctor or pharmacist if you are using or have recently used any other medicines which are applied to the skin as they may interfere with Hydromol Intensive. Please tell your doctor or pharmacist if you are taking or have recently taken/used any other medicines, including medicines obtained without a prescription.

Like all medicines, Hydromol Intensive can cause side effects, although not everyone gets them.

Some people experience local irritation when they apply Hydromol Intensive. If you notice this or any other unusual effect, tell your doctor.

If you use Hydromol Intensive as your doctor tells you, it is unlikely to cause side effects.

If any of the side effects gets worse, or if you notice any side effects not listed in this leaflet, please tell your doctor or pharmacist.
Ingredients

10% w/w urea, white soft paraffin, maize starch, isopropyl myristate, glyceryl tribehenate, palmitic acid, sorbitan laurate and polyoxyethylene fatty glyceride.
You may also like