Lanes Tea Tree & Witch Hazel Cream 28g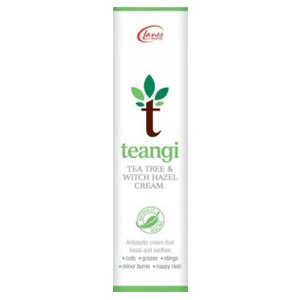 Lanes Tea Tree & Witch Hazel Cream 28g
£2.59 Save: £0.66 RRP: £3.25
Brand: Lanes
Code: 2183499
Weight: 28g (includes packaging)
Description
Lanes Tea Tree & Witch Hazel Cream is formulated to treat and calm irritated skin. The pure, natural ingredients in the cream provide gentle, cooling relief from cuts and grazes, stings and skin irritations such as spots, chapped skin and nappy rash.
Tea Tree oil is an effective antiseptic, anti-bacterial and anti-fungal and is used in a wide range of products. All Lanes Tea Tree products contain the higher quality pharmaceutical grade tea tree oil for maximum benefit. Lanes Tea Tree oil is extracted from the Melaleuca Alternifolia, an Australian plant which has been recognised as one of nature's most versatile plants and has been widely used amongst Aborigines for around 4000 years. This particular plant is native to a small region of northern New South Wales and is cultivated specifically to produce this valuable oil.
Directions
Apply several times a day as required and at bedtime.
Warnings
Do not use with creams or ointments containing benzyl penicillin
Ingredients
Active ingredients w/w: Distilled witch hazel BPC 40.61%, eucalyptus oil BP 1.04%, Methyl salicylate BP 1.04%, camphor BP 0.52%, tea tree oil BPC 2.50%, zinc oxide BP 3.11%.
Other ingredients: Chloroxylenol BP, emulsifying wax BP, lanolin BP, menthol BP, water, white beeswax BP, white soft paraffin BP.
You may also like