LQD Wound Care Spray 12ml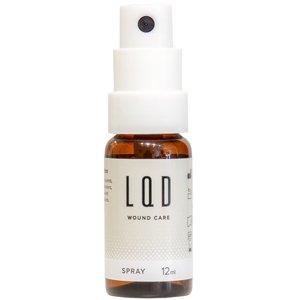 Discount! See more
Apply discount code: LQD4999 to get this product for £49.99!
£54.00
This product is typically dispatched within 1-3 working days from date of order when using our standard delivery or 48 Hour Tracked and Signed service.
Brand: LQD
Code: 4069894
Weight: 40g (includes packaging)
Description
Apply discount code: LQD4999 to get this product for £49.99!
What is LQD Spray?
LQD Spray is a new wound spray that can be used as a dressing on your wound. It contains ultrapure chitosan, a naturally occurring molecule with a proven ability to relieve pain and speed up healing. Chitosan is also anti-microbial, helping to prevent infection.
Who is LQD Spray recommended for?
LQD Spray is recommended for people with chronic wounds, such as leg ulcers or diabetic foot ulcers, acute wounds, cuts and grazes, wounds in awkward areas and for people with superficial burns.
Do I need another dressing?
If your wound is not leaking wound fluid, then LQD Spray can be used on its own. It can also be used in combination with certain wound dressings, if needed.
Your healthcare professional can give you advice on this.
How often should I apply LQD Spray?
Reapply approximately every 48 hours or sooner and after showering.
When should I stop using LQD Spray?
LQD Spray can be used until your wound has completely healed.
If your wound begins to deteriorate, for example, becomes red, hot, swollen or leaky, this might indicate infection. In this situation, you should notify your health care professional immediately.
Directions
The wound should be cleaned and debrided, if required.
Spray evenly over the wound from a distance of 10cm. A 6cm x 6cm wound will typically need 3-4 sprays.
Allow the spray to dry for 2 minutes (to become a primary dressing).
Dress the wound with a secondary dressing and apply compression if appropriate.
Warnings
Make sure that the pump head does not come into contact with the wound.
For external use only.
Do not spray in eyes.
Keep out of sight and reach of children.
Inhalation or ingestion of the spray should always be avoided. Special caution is recommended
in any user, including those applying or in the immediate vicinity of the treatment being applied,
where there is a history or suspicion of shellfish allergy.

Ingredients
Sterile Chitosan-Acetate Solution 0.75%.
Contains no preservatives.
You may also like