Menopace Max Tablets & Capsules Pack of 84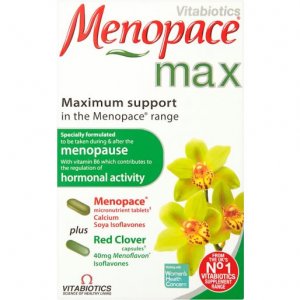 Menopace Max Tablets & Capsules Pack of 84
£15.89 Save: £9.06 RRP: £24.95
Brand: Vitabiotics
Code: 3929643
Weight: 142g (includes packaging)
Description
Menopace is an advanced range of menopause supplements, designed by experts to provide effective nutritional support.
Thousands of women enter the menopause every year, and Menopace's tried and tested vitamins for the menopause are specially designed to provide nutritional support during this time of change. The range includes ingredients such as Soya Isoflavones, Sage, 5HTP, Red Clover, and much more.
Menopace Max is the most comprehensive supplement in the Menopace range for maximum nutritional support, formulated to be taken during and after the menopause.
The comprehensive formula includes all of the benefits of Menopace Original with added calcium, extra Soya Isoflavones, plus Green Tea and Red Clover extracts.
Hormonal Balance
Menopace Max includes vitamin B6 to contribute to the regulation of hormonal activity.
Calcium for Bone Health
Both men and women lose bone mass during their lifetime but around the time of the menopause, women typically lose bone mass much faster than men. Calcium helps to reduce the loss of bone mineral in post-menopausal women.* Low bone mineral density is a risk factor for osteoporotic bone fractures‡, so it is especially important to make sure we are getting enough calcium during this time.
Menopace Max contains 700mg calcium, as well as zinc, magnesium and vitamin D which all contribute to the maintenance of normal bones. Menopace Max also contains a higher level of vitamin D compared to Menopace Original, which contributes to normal absorption and utilisation of calcium as well as normal function of the immune system.
Supporting Normal Heart Health
Looking after your heart and cardiovascular health is especially important around this time. Menopace Max contains thiamin (vitamin B1) which contributes to the normal function of the heart, whilst vitamins B12 and B6 and folate contribute to normal homocysteine metabolism. Maintaining healthy lower levels of the blood amino acid homocysteine is independently linked with heart health.
Overall Wellbeing
Menopace Max has been developed to support all round general health and wellbeing with a comprehensive range of vitamins and minerals, so there is no need to take an additional multivitamin supplement. The formula includes vitamin B12, biotin, copper and iron which contribute to normal energy release plus vitamin D which contributes to normal function of the immune system.
Red Clover & Green Tea extracts red clover extract
As well as a comprehensive range of micro nutrients, vitamins and minerals, Menopace Max also includes a vegetarian capsule with Red Clover and Green Tea extracts.
This provides an ideal 40mg Menoflavon Red Clover Isoflavones, which has been highly researched and includes the three important Isoflavones; Formononetin, Biochanin-A and Genistein, as well as 25mg of polyphenols, the active component of Green Tea. Green Tea extract contributes to the protection of cells from oxidative stress.
The Menoflavon botanical extract used (Red Clover Extract IFL 40, USP 32) is of the highest quality United States Pharmacopeia (USP) standard and is a food supplement produced under high standards of quality control.
Directions
Two red tablets and one green capsule per day. Swallow each with water or a cold drink and take with a main meal.
Not to be chewed. Do not exceed the recommended intake. To be taken on a full stomach.
This comprehensive formula replaces other Menopace supplements and multivitamins. There is no need to take an additional multivitamin.
Warnings
Food supplements must not replace a varied and balanced diet and a healthy lifestyle.
As with other food supplements, seek professional advice before using if you are under medical supervision, suffer from food allergies, or are allergic to any of the ingredients.
This product contains iron, which if taken in excess may be harmful to very young children.
Store below 25°C in a dry place, out of sight and reach of children.
Ingredients
Calcium Carbonate (Maltodextrin), Magnesium Oxide, Soya Isoflavone Extract (from Soya), Tablet Coating (Hydroxypropylmethylcellulose, Polydextrose, Natural Source Colours [Titanium Dioxide, Iron Oxide, Copper Chlorophyllin], Talc, Maltodextrin, Medium Chain Triglycerides), Anti-Caking Agents: Silicon Dioxide, Stearic Acid & Magnesium Stearate, Vitamin C (Ascorbic Acid [Carrier: Hydroxypropylmethylcellulose]), Bulking Agents: Maltodextrin & Microcrystalline Cellulose, Pantothenic Acid (as Calcium Salt), Vitamin E Natural Source (as D Alpha Tocopheryl Acid Succinate) (from Soya), Zinc Sulphate, Para Amino Benzoic Acid, Crosslinked Cellulose Gum, Ferrous Fumarate, Niacin (as Nicotinamide), Thiamin (Vitamin B1 as Mononitrate [Carrier: Hydroxypropylmethylcellulose), Vitamin B6 (Pyridoxine HCI), Vitamin B12 (Cyanocobalamin [Carriers: Trisodium Citrate, Citric Acid, Maltodextrin]), Natural Mixed Carotenoids (Betacarotene, Starch, Water, Antioxidant: DL-Alpha Tocopherol), Riboflavin, Vitamin A (Vitamin A Acetate, [Carriers: Acacia, Corn Starch, Maltodextrin, Antioxidant: DL-Alpha Tocopherol]), Vitamin D3 (Cholecalciferol [Carriers: Acacia, Sucrose, Corn Starch, Medium Chain Triglycerides, Antioxidant: DL-Alpha Tocopherol]), Copper Sulphate, Manganese Sulphate, Folic Acid (as Pteroylmonoglutamic Acid), Potassium Iodide, Chromium Trichloride, Sodium Selenate, Biotin.
You may also like