Due to an unusually high number of orders being received dispatch times may be longer than stated. Please allow up to 7 working days for dispatch.

We are also experiencing a high volume of calls. Please use our contact us page to leave a message and we will get back to you as soon as possible.
Mucogel Suspension 500ml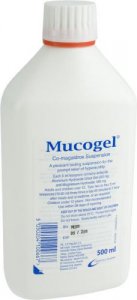 Mucogel Suspension 500ml
£4.29 Save: £1.09 RRP: £5.38
Brand: Mucogel
Code: 0283184
Weight: 550g (includes packaging)
Description
Antacid therapy in gastric and duodenal ulcer, gastritis, heartburn, gastric hyperacidity. Treatment of indigestion. Relief of symptoms of heartburn and dyspepsia associated with gastric reflux in hiatus hernia, reflux oesophagitis and similar conditions
Directions
1 - 2 teaspoonfuls 4 times daily 15 minutes before meals and at bedtime.
Warnings
Side Effects:
Magnesium salts tend to be laxative and aluminium salts constipating, therefore the combination of the two in this preparation should have minimal effect on the stools

Cautions:
Not recommended for childern under 12 years of age. It is a low sodium preparation (each 10ml dose contains less than 1mmol of sodium) which should be noted for patients on sodium-restricted diets
Ingredients
Mint flavoured suspension containing aluminium hydroxide gel 220mg and magnesium hydroxide 195mg per 5ml
You may also like