Murine Hayfever Relief Eye Drops 10ml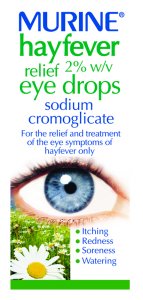 Murine Hayfever Relief Eye Drops 10ml
Description
Murine hayfever relief eye drops contain Sodium Cromoglicate, which reduces the body's response to the hayfever allergen by stopping the production of histamines and in turn prevents the eye symptoms of hayfever, such as itchy, red and watery eyes, from developing.
Murine hayfever relief eye drops provide a straight forward, rapid and effective means of reducing eye discomfort caused by hayfever symptoms.
Directions
Adults and Children over 6 years:

Gently squeeze 1 or 2 drops into each eye, 4 times a day.
Warnings
Do not exceed the stated dose.

Keep out of the sight and reach of children.

Do not use if you or your child are sensitive to eye drops containing sodium cromoglicate, benzalkonium chloride or disodium edetate.

Avoid contact with soft contact lenses. For all other types of contact lenses: Remove contact lenses prior to application and wait at least 15 minutes before reinsertion.

Do not use in children under 6 years of age.

Do not use for other allergic eye symptoms (not caused by hayfever). Other things in everyday life can start allergies causing eye symptoms in certain people. For example contact with animals including pets, house dust mites, other particles and chemicals. Talk to your pharmacist or doctor.
Ingredients
Sodium Cromoglicate 2% w/v, Also contains: Sodium Chloride, Disodium Edetate, Polysorbate 80, Benzalkonium Chloride and Water for injections.
You may also like