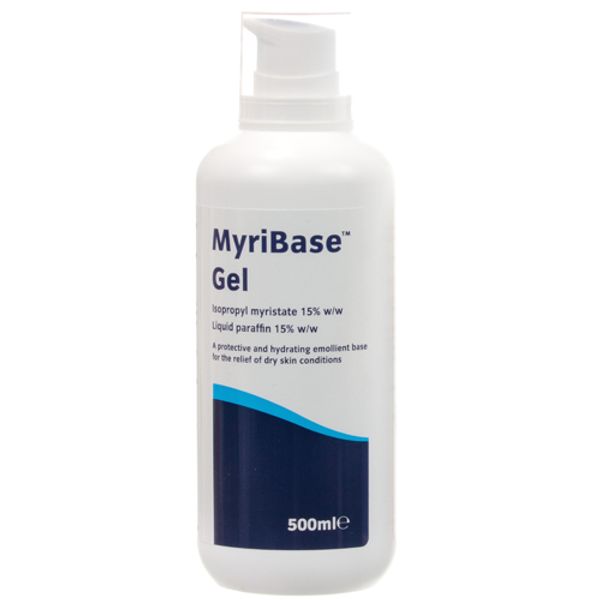 Myribase Gel 500ml
£6.99
This product is typically dispatched within 3-5 working days from date of order and is not suitable for our next day delivery service.
Description

MyriBase Gel is designed to be applied on your skin, it helps form a barrier on the surface of your skin that helps prevent dry skin conditions.

Common examples include:

Eczema (dry itchy skin which may be red and inflamed)
Contact Dermatitis (dry itchy skin caused by irritation)
Psoriasis (dry skin marked with red, scaly and itchy patches)
Ichthyosis (dry and scaly skin)
Pruritus (itchy and dry skin)

MyriBase Gel is a simple emollient gel that is suitable for all ages including infants.

The application of emollients to dry skin helps to:

Soften, moisturise and protect your skin by trapping moisture and restoring its normal protective function
Prevent the skin from drying out and acts as a barrier to irritants caused by the application of soaps, foaming additives and fragrances used in ordinary cleansing products
MyriBase Gel contains Isopropyl myristate 15% w/w and Liquid paraffin 15% w/w. Both ingredients have been used extensively in similar emollients for dry skin conditions

This product can be used in addition to any other emollients or treatments your doctor, pharmacist or nurse may have given or prescribed to you to treat your dry skin condition.
Directions

This product should only be applied to the skin. For maximum benefit you should apply the gel to the affected area on a regular basis and as often as required.

Before using the 500ml bottle, turn the top of the pump dispenser anticlockwise to unlock. After unlocking, you will need to press down the pump dispenser several times to prime the pump before any product is dispensed.

In the event that the pump stops working this may be due to the formation of an 'air lock' at the base of the feeder spout. In such instances this can be cleared by squeezing the bottle lightly while depressing the pump several times. Under no circumstances should users try to open the pump or cut the bottle to access product inside.

Use a few gentle strokes to smooth the gel across the skin in the same direction as hair growth. If necessary allow time for any excess gel to soak into the skin.

Do not rub vigorously into the skin.

If you are applying another treatment to the same areas of the skin as MyriBase Gel, try to avoid mixing the two products. This can be achieved by applying the two treatments alternately, leaving sufficient time to allow the previous application to soak in.
Warnings

Do not use if you have an allergy to any of the ingredients listed. Do not apply if the skin is broken, badly cracked, infected or bleeding. Avoid contact with the eyes.

Use during pregnancy and breastfeeding is unlikely to have any ill effects when used as directed. If unsure, talk to your doctor or pharmacist.

Warning: Contains Paraffin

Paraffin can become flammable when it soaks into fabric.

Do not to go near anyone smoking or using naked flames (e.g. candles, gas cookers or heaters)

Please be aware that this product contains Liquid Paraffin which is highly flammable, keep away from open or gas fires or hobs and naked flames, including candles etc. and not to smoke when using these paraffin containing preparations.
Bedding and clothing should be washed regularly (preferably daily) to minimise the build-up of impregnated paraffin although it may not be completely removed, unless it is washed at a high temperature as paraffin is invisible and can accumulate over time

For someone who has bedding or clothing likely to be impregnated with emollient cream: don't have candles, electric blankets, overload plug sockets, or place hot hairdryers/hair straighteners on the bed.
Ingredients

Active ingredients: Isopropyl myristate 15% w/w and Liquid paraffin 15% w/w.

The other ingredients are Glycerol, Carbomer, Sorbitan laurate, Phenoxyethanol, Triethanolamine and Purified Water.
You may also like