Nair Face And Eyebrow Wax Roll On 15ml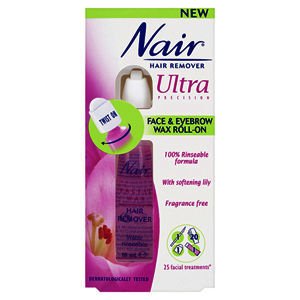 Nair Face And Eyebrow Wax Roll On 15ml
Description
The ultra precise roll-on applicator is unique to NAIR and is derived from professional techniques to smoothly follow the curves of the face. It is gentle on delicate skin and with the precise wooden spatula, provides the perfect finishing touch.
This wax is a 100% rinseable formula that is gentle and effective. The wax coats the hair for easy removal with the cloth strips provided. It is perfume free and made with softening lily.
Directions
Carefully fill a glass or cup with boiling water. Put the tube of wax, cap downwards, into the water for 3 minutes. Dry the tube well. Remove the cap and screw on the roll-on applicator.
Squeeze the tube to get the wax flowing, and roll the applicator over the back of the hand to test the wax temperature. If the wax does not come out easily, replace the cap on the tube and put it back into the hot water for 1 minute.
Make sure that water does not get into the tube, as it will make the wax less effective. Hair Before each use, always do a patch test. Apply a test sample to a small area where the product will be used, following the instructions.
Wait 24 hours before applying the product to a larger area. A slight reddening of the skin is normal for several hours after waxing. In cases of more extreme reactions, discontinue use immediately and do not proceed with the full treatment.
If skin appears normal, proceed. Cleanse the area from which you wish to remove hair using soap and/or warm water and then dry thoroughly. The hair removal area must be dry and free from any traces of cream or cosmetics. Roll the applicator over the area to be treated, in the direction of hair growth.
Place a cloth strip on the wax, pressing well, leaving approx. 1cm at the end to make it easier to remove. Hold the skin taut with the other hand and then pull off rapidly in the opposite direction, parallel to the skin. Each strip can be used several times.
Tips for Eyebrows: For more precise hair removal, the cloth strip can be cut to your desired shape. Use the wooden spatula to separate the hairs to be removed.
For a more precise application the same spatula can be used to apply the wax to a specific area for well defined eyebrows. Roll the applicator from the centre of the eyebrow outwards, following the natural shape.
After Hair Removal: Any residue remaining on the skin can be washed away with lukewarm water and a clean cloth. Unscrew and remove the roll-on applicator, replace the cap on the tube, wash the roll-on applicator thoroughly under warm tap water. Wash cloth strips with warm water so they can be re-used next time.
Warnings
Always do a skin patch test 24 hours before use.
If irritation occurs, cease use.
Avoid contact with eyes.
Ingredients
Sucrose, Glucose, Aqua, Citric Acid, Butylene Glycol, Lilium Candidum Bulb Extract, CI 45190
You may also like