Neocate Advance Unflavoured Sachets Pack of 10 x 100g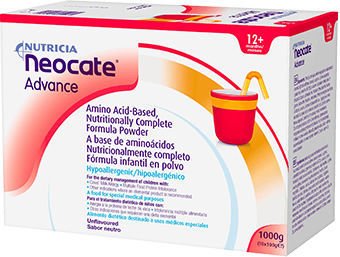 Neocate Advance Unflavoured Sachets Pack of 10 x 100g
£71.90
Brand: Neocate
Code: 2641298
Weight: 1150g (includes packaging)
Description
The Neocate Range is used to relieve symptoms of cows' milk allergy or multiple food allergy. It can also be used in the management of various disorders of the gut.
Neocate Advance is a paediatric, hypoallergenic, nutritionally complete, elemental formula consisting of a mixture of essential and non-essential amino acids, carbohydrates, fat, vitamins, minerals and trace elements. Available in Banana Vanilla flavour (contains colours, sugar and sweeteners) or Unflavoured. A food for special medical purposes.
Product recommendations are a guide only and a health care professional can recommend the most appropriate product after full consideration of all medical and nutritional factors. If you have queries about the suitability of a nutritional product please contact the Dietetic Resource Centre or your local dietitian.


What is the difference between Neocate Active and Neocate Advance?
Neocate Active is used as a supplement to your child's diet, it is not suitable as a sole source of nutrition. Neocate Active provides nutritional support to help prevent deficiencies in your child's diet that may be caused by their allergy. If your child can eat no other foods, Neocate Advance will have been recommended because it is nutritionally complete and therefore is suitable as a sole source of nutrition.
Directions
The quantity of Neocate Advance should be determined by a clinician or a dietitian only and is dependent on the age, bodyweight and medical condition of the patient.
Preparation & Administration
The recommended dilution is 1 in 4 weight to volume (25% w/v) i.e. Unflavoured: 1 sachet (100g) added to 340ml water. Banana Vanilla: 1 sachet (50g) added to 170ml water. This dilution provides 1kcal/ml.

Wash hands.

Measure required volume of water into a container.

Add 1 sachet of Neocate Advance to the water.

Cover and shake the product until the powder has dissolved or liquidise for up to 10 seconds.

Neocate Advance is now ready for use.

Neocate Advance is best served chilled.

Shake or stir the product immediately before serving.
Warnings
Store in a cool, dry place.
Once opened a sachet should be stored in an airtight container and used within 2 - 3 days.
Only use under medical supervision.
When used to supplement a restricted diet it is advisable to ensure that adequate intakes of all nutrients are provided.
Children on milk-free diets may require a calcium supplement.
Not for parenteral use.
Not suitable for infants.
Ingredients
Dried Glucose Syrup, Refined Vegetable Oil (Non-Hydrogenated Coconut Oil, High Oleic Sunflower Oil, Sunflower Oil, Canola Oil), L-Arginine L-Aspartate, L-Leucine, L-Lysine Acetate, Calcium Phosphate Dibasic, Tripotassium Citrate, L-Glutamine, L-Proline, Emulsifier (E472c), L-Valine, Glycine, L-Isoleucine, LThreonine, L-Phenylalanine, L-Tyrosine, L-Serine, L-Histidine, L-Alanine, Sodium Chloride, L-Cystine, LTryptophan, Magnesium Chloride, Choline Bitartrate, L-Methionine, High Arachidonic Acid Single Cell Vegetable Oil, Magnesium L-Aspartate, High Docosahexaenoic Acid Single Cell Vegetable Oil, Tricalcium Citrate, M-Inositol, L-Ascorbic Acid, Taurine, Ferrous Sulphate, Zinc Sulphate, L-Carnitine, Uridine-5- Monophosphate sodium salt, Cytidine-5-Monophosphate, Nicotinamide, Inosine-5-Monophosphate disodium salt, Adenosine-5-Monophosphate, Calcium D-Pantothenate, Guanosine-5-Monophosphate disodium salt, Antioxidants (E304, E307, E306), DLAlpha Tocopheryl Acetate, Copper Sulphate, Thiamine Hydrochloride, Pyridoxine Hydrochloride, Riboflavin, Manganese Sulphate, Vitamin A Acetate, Potassium Iodide, Folic Acid, Chromium Chloride, Vitamin K1, Sodium Selenite, Sodium Molybdate, D-Biotin, Vitamin D3, Cyanocobalamin.
You may also like