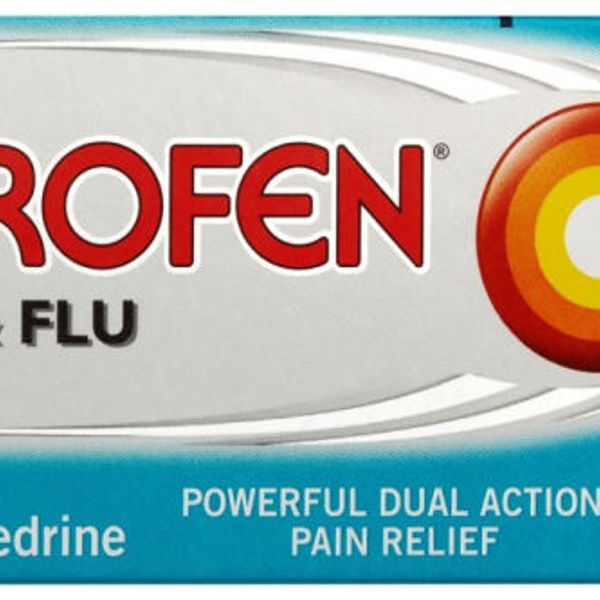 Nurofen Cold & Flu Tablets Pack of 24
£6.49
Due to legal restrictions, Pseudoephedrine containing products are limited to a total of 720mg. Products that contain Pseudoephedrine cannot be purchased at the same time as Ephedrine containing products.
This product is typically dispatched within 3-5 working days from date of order and is not suitable for our next day delivery service.
Description

Use for:

Blocked nose and sinuses
Fever
Aches and pains
Headaches
Sore throat

Combined painkilling power of ibuprofen with pseudoephedrine - a strong non-drowsy decongestant - to give you relief from cold or flu symptoms.

While ibuprofen gets to work easing your aches and reducing your fever, pseudoephedrine acts on the blood vessels in your nose, helping clear congestion.

So in no time you'll feel like your old self again!

How Does Nurofen Cold & Flu Work?

Nurofen Cold & Flu contains ibuprofen which belongs to a group of medicines known as non steroidal anti-inflammatory drugs (NSAIDs).
NSAIDs provide relief by changing the body's response to pain, swelling and high temperature.
Pseudoephedrine belongs to a group of drugs called vasoconstrictors which act on the blood vessels in the nose to relieve nasal congestion.
Nurofen Cold & Flu is effective in clearing a blocked nose and sinuses, relieving aches, pains, headache and feverishness, and easing the discomfort of a sore throat.
Directions

Adults the elderly and children of 1 2 years and older:

Swallow 2 tablets with water, then if necessary take 1 or 2 tablets every 4 hours.
Do not take more than 6 tablets in 24 hours.
Not suitable for children under 12 years.

If you take too many tablets by mistake, contact your doctor or pharmacist straight away or telephone your local casualty department for advice. If symptoms persist or if pain or fever worsen, or if any new symptoms occur, consult your doctor or pharmacist.

ALWAYS READ ALL PRODUCT PACKAGING AND LABELS PRIOR TO USE.

KEEP ALL MEDICINES OUT OF REACH AND SIGHT OF CHILDREN.
Warnings

You should not take Nurofen Cold & Flu if:

You have had an allergic reaction to aspirin, ibuprofen or any of the ingredients listed above
You have had a worsening of asthma, allergic rash or an itchy, runny nose when taking ibuprofen, aspirin or similar medicines
You have or have ever had a stomach ulcer
You have heart, high blood pressure, or prostate problems or an overactive thyroid
You have diabetes or glaucoma
You are under 12 years of age
You are pregnant or breast feeding.

Ask your doctor before taking Nurofen Cold & Flu if:

You have asthma or have suffered from asthma
You have kidney or liver problems, especially if you are elderly
You are taking any regular medication, especially medicines for thinning the blood (anticoagulants), antidepressants (e.g. tricyclic antidepressants), decongestants or appetite suppressants, heart or blood pressure drugs e.g. water tablets (diuretics), other pain relievers containing aspirin, ibuprofen or other NSAIDs, Monoamine Oxidase Inhibitors (MAOIs) taken within the last 14 days, Methotrexate or Lithium.

Do not exceed the recommended dose or duration of treatment (3 days). If you have heart problems, previous stroke or think that you might be at risk of these conditions (for example if you have high blood pressure, diabetes or high cholesterol or are a smoker) you should discuss your treatment with your doctor or pharmacist.

KEEP ALL MEDICINES OUT OF REACH AND SIGHT OF CHILDREN.

ALWAYS READ ALL PRODUCT PACKAGING AND LABELS PRIOR TO USE.
Ingredients

Each tablet contains the active ingredients:

Ibuprofen BP 200mg and Pseudoephedrine Hydrochloride PhEur 30mg.

Also contains:

Calcium Phosphate, Microcrystalline Cellulose, Polyvinyl Pyrrolidone, Sodium Carboxymethyl Cellulose, Magnesium Stearate, Hydroxypropylmethyl Cellulose, Talc, Titanium Dioxide, Quinoline Yellow and Sunset Yellow (contains Aluminium and E11 0), Black Ink (contains Shellac, Iron Oxide Black E 172 and Propylene Glycol).
You may also like