Omron M6 Comfort IT Blood Pressure Monitor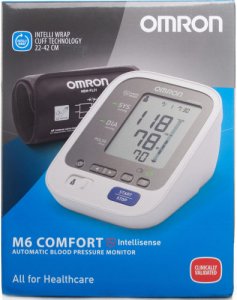 Omron M6 Comfort IT Blood Pressure Monitor
Description
The New OMRON M6 Comfort IT incorporates the most advanced OMRON sensors and indicators to ensure accurate, reliable blood pressure readings. The Intelli Wrap Cuff ( 22-42cm) fits almost all adult arm sizes and ensures accurate readings in virtually zany position.
The M6 Comfort IT connects to Bi-LINK online health management platform. Upload your blood pressure data via USB (cable included) to track, analyze and understand your health. Connect an OMRON activity monitor or weighing scale to Bi-LINK to better understand how activity and weight impact your blood pressure.
Bi-LINK OMRON Health Management Platform
Cuff Wrapping Guide Indicates if cuff is wrapped correctly: not too loose or too tight
Intelli Wrap Cuff Technology For an easy and accurate reading
Easy BP Level Indicator LED indicator: normal (green) or high (red)
Morning Hypertension Allows you to track whether your morning measurement is different from the rest of the day
Irregular Heartbeat Detection Indicates if Irregular Heartbeat is detected
Average 3 Readings Average of 3 consecutive readings in 10 minutes
USB Easily retrieve data from your monitor and upload it to your account
Clinically Validated The device has proven its reliability and accuracy under vigorous testing procedures by major health organisations
Body Movement Detector Detects any movement which can invalidate a result and displays an icon on screen to let you know
2 User Memory Memory capacity for two users
Large Display
What is in the box?
Blood Pressure Monitor
Intelli Wrap Cuff (22-42cm)
USB-cable
Storage Case
Battery Set (4xAA-LR06) included
Instruction Manual
Blood Pressure Pass
Directions
Simple to use with button operation
Just attach Intelli Cuff Wrap to your arm and then push the start button
Warnings
Always consult your doctor. You should never stop or change the dosage of medication prescribed by your doctor.
Do not leave the unit unattended with infants or persons who cannot express their consent.
Do not use the unit for any purpose other than measuring blood pressure.
Use only the approved arm cuff for this unit. Use of other arm cuffs may result in incorrect measurement results.
Do not disassemble the unit or arm cuff.
Make sure that the air tube is not wrapped around other parts of your body when taking measurements at night. This could result in injury when the air pressure in the air tube is increased.
Do not wrap the arm cuff tightly when taking measurements at night. This could result in injury.
Do not inflate the arm cuff over 299 mmHg.
Do not allow objects to come into contact with the USB connector on the right of the unit when taking measurements

You should carefully read all product packaging and labels prior to use.
Ingredients
There are no ingredients listed for this product.
You may also like