Due to an unusually high number of orders being received dispatch times may be longer than stated. Please allow up to 10 working days for dispatch.

We are also experiencing a high volume of calls. Please use our contact us page to leave a message and we will get back to you as soon as possible.
Pevaryl Cream 30g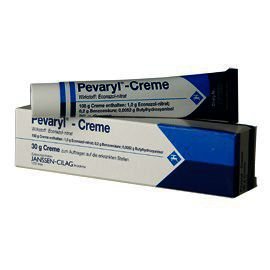 Pevaryl Cream 30g
£5.39
Brand: Pevaryl
Code: 0327999
Weight: 30g (includes packaging)
Description
Skin infections
Use the cream twice a day. Rub the cream gently into the affected skin. Keep the affected area clean and dry
Nail infections
Use the cream once a day. Cover the affected area completely with a dressing. Keep the affected area clean and dry
When to stop using Pevaryl
Keep using the cream until the infection has completely healed.
Warnings
Like all medicines, Pevaryl can cause side effects, although not everybody gets them.
Stop using Pevaryl and tell your doctor straight away if you notice the following.
Severe irritation or reddening of the skin, or other signs of allergy during the first few days of treatment. This only happens in a small number of people
Other side effects:
Itching or redness of the treated area. This is much milder than an allergic reaction. Tell your doctor or pharmacist if this feeling lasts for more than a few minutes or gets worse (rash, burning or swelling).
Ingredients
The active substance in Pevaryl is econazole nitrate. Pevaryl contains 1% econazole nitrate.
The other ingredients are purified water, Pegoxyl-7-stearate, liquid paraffin, Peglicol-5-oleate, benzoic acid (E210), flower perfume 4074, butylated hydroxyanisole (E320).