Quiet Life Tablets Pack of 100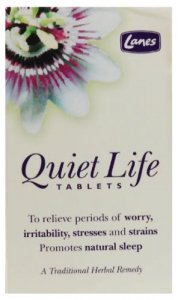 Quiet Life Tablets Pack of 100
Description
To relieve periods of worry, irritability, stresses and strains.
Promotes natural sleep.
A Traditional Herbal Remedy.
Quiet Life Tablets are a nervine which help nervous disorders, and a sedative which helps promote relaxation. They also contain B vitamins, a deficiency of which can cause nervous symptoms.
Directions
Usage
Directions: Adults and children aged 12 and over: Swallow 2 tablets twice a day with water after meals, plus 3 tablets at bedtime.
Not recommended for children under 12 years old.
Do not take if you are allergic to any of the ingredients.
It is best not to take any non-essential medication when pregnant or breast-feeding. Ask your doctor or pharmacist for advice before taking any medicine.
You must contact a doctor if symptoms worsen or do not improve after 7 days.
Quiet Life Tablets may make you feel sleepy. If affected, do not drive or operate any tools or machines.
Do not use if cap seal is broken.
Read the package leaflet before use.
Storage
Keep out of the reach and sight of children.
Do not store above 25°C.
Warnings
Warnings of using Quiet Life Tablets - 100: Quiet Life Tablets should not be taken if you are pregnant, breast feeding, or a child.
Ingredients
Active Ingredients per Coated Tablet: Motherwort 34mg, Hops 75mg, Passiflora 58mg, Lettuce Extract 5.8mg
Valerian Extract 12.5mg, Thiamine Hydrochloride (Vit B1) 0.71mg, Riboflavin (Vit B2) 0.57mg, Nicotinamide 4.49mg
Also contains: Sucrose
You may also like