Regaine Men Foam 73ml & Alpecin Shampoo Double Effect 200ml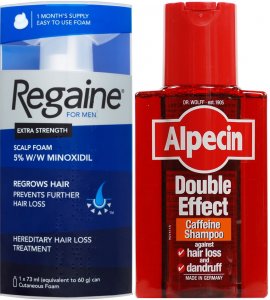 Regaine Men Foam 73ml & Alpecin Shampoo Double Effect 200ml
£30.60 Save: £11.64 RRP: £42.24
Royal Mail carries a restriction of 2 aerosols (maximum volume 500ml per package). Any order above this restricted quantity has to be shipped via DPD who have limited delivery areas & (more information).
This product is typically dispatched within 1-3 working days from date of order when using our standard delivery or 48 Hour Tracked and Signed service.
Brand: Regaine
Code: 3583408
Weight: 376g (includes packaging)
Description
Regaine Foam For Men (Contains Minoxidil)
When it comes to a hair loss treatment for men, there's nothing quite like Regaine Foam. Regaine Foam contains 5% minoxidil - and in clinical testing, Regaine Foam re-grew hair in 85% of men after 4 months when used twice daily. Because it's a foam, there is no hassle and no mess. It goes on easy and dries quickly. So your daily routine is never interrupted.
What causes hair loss?
The most common cause of hair loss in men and women is androgenetic alopecia (AGA). Heredity, hormones and age all play a part in this condition. In AGA the genes and hormones in your body have a shrinking effect on your hair follicles, making them ineffective at growing new hairs.
How Regaine Works?
Minoxidil, the active ingredient in Regaine, reinvigorates shrunken hair follicles - they increase in size and regrow thicker hair over time.
Regaine contains the active ingredient Minoxidil which works by increasing the supply of blood and nutrients to the hair follicles, strengthening existing hair and stimulating secondary growth. This produces thicker, longer, more-visible hair. Regaine achieves these results without affecting male hormones.
What Do Expect From Regaine Foam?
Here are some things you can expect to notice as you begin your Regaine routine:
During the first few weeks of use, there may be a temporary increase in hair shedding:
This is a good sign and means that the new hair growth cycle is beginning!
Older hairs you would have lost are making way for the new healthy ones. Eventually, new growth will appear.
Early hair regrowth is soft and downy, and will be barely visible.
With continued use of Regaine new hairs should eventually appear with the same colour and thickness as the rest of your hair.
Above all, keep up your routine. Because real success doesn't happen overnight.
Regaine helps reverse the progression of hereditary hair loss.
Apply Regaine directly to your scalp - twice a day, every day. It goes on easy and dries quickly.
ALPECIN
Alpecin Double Effect Shampoo loosens scaly, keratinous cells and thoroughly removes dandruff from the scalp. This clears the way for the caffeine complex: In the second step, the active ingredients penetrate into the hair root and strengthen it against hereditary hair loss.
Why double effect? The two most frequent scalp problems affect men:
About half of all men have a predisposition for premature hair loss and about one-third suffers from dandruff.
This was also confirmed by a representative survey with 1.2 million men: About one out of four men suffers from dandruff, and about 50% of all polled men suffer from hair loss.
How does dandruff occur?
A very long time ago, sebum was meant to waterproof the hair and skin and protect humans from the cold. Since humans wear clothes, this function has become superfluous. In addition, germs and microorganisms that naturally occur on the skin use sebum as a source of nutrition. Degradation products of sebum irritate the skin, make it itch and accelerate the formation of the keratinous layer. The consequence is dandruff. Due to subsequently released sebum, these skin cells stick together to form large, visible skin flakes.
Why hair loss?
Based on an excess of testosterone, which begins during puberty, hair may fall out prematurely. As a result, many men notice hereditary hair loss early on. The hair root is hypersensitive to the hormone dihydrotestosterone (DHT). It weakens the hair roots and prematurely renders them inactive. This shortens their growth phases and terminates their lifetime prematurely. If more and more hair roots die in this manner, baldness will ensue.
Directions
How to use Regaine Foam For Men:
In the morning, within the hair-thinning area, part the hair into one or more rows to maximize scalp exposure.
The foam may begin to melt upon contact with your warm skin. If your fingers are warm, rinse them in cold water first (be sure to dry them thoroughly before handling the foam).
Hold the can of Regaine Foam For Men upside down and press nozzle to dispense the topical foam product onto your fingers. The total amount of foam applied should be half a capful.
Using your fingers, spread foam over the hair-loss area and gently massage into scalp, then wash your hands well.
In the evening, follow the steps above to be sure you apply Regaine Foam For Men correctly. Make sure you apply it early enough before going to bed to allow it to dry completely.
While using Regaine Foam For Men, you can continue other hair care routines, including washing, styling - even coloring - as long as you allow Regaine to dry first.
How to use Alpecin Double Effect Shampoo:
Leave the product on the scalp for two minutes – from application to rinse
Warnings
Do not use Regaine Foam For Men if you:
Suffer from a problem with blood pressure
Don't know why you're losing your hair - see your doctor
Have sudden or patchy hair loss
Have other conditions associated with hair loss
Have a history of sensitivity to Minoxidil or any of the other ingredients
Have been treated or untreated for hypertension
Have scalp abnormality (including psoriasis and sunburn)
Have a shaved scalp
Are using any other medications on your scalp
Are under 18 or over 49 years of age
Are a woman
Patients with known cardiovascular disease or cardiac arrhythmia should contact a physician before using Regaine
You should carefully read all product packaging and labels prior to use
Ingredients
REGAINE
Active ingredient: Minoxidil 50mg/ml
Also contains: Ethanol Anhydrous, Purified Water, Butylated Hydroxytoluene (E321), Lactic Acid, Citric Acid Anhydrous, Glycerol Cetyl Alcohol, Stearyl Alcohol, Polysorbate 60, Propane, Butane, Isobutane, Nitrogen.
Alpecin Double Effect Shampoo contains:
Aqua, sodium laureth sulfate, caffeine, panthenol, parfum, salicyclic acid, hydrolysed wheta protein, sodium chloride, sodium citrate, menthol, sodium benzoate, limonene, phenoxyethanol, methylparaben, butylparaben, ethylparaben.
You may also like