Seravit Dietary Supplement Unflavoured 200g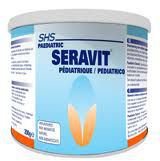 Seravit Dietary Supplement Unflavoured 200g
£20.49 Save: £4.63 RRP: £25.12
This product is typically dispatched within 3-5 working days from date of order and is not suitable for our next day delivery service.
Brand: Seravit
Code: 2334662
Weight: 240g (includes packaging)
Description
Paediatric Seravit is a comprehensive vitamin, mineral and trace element mixture containing only trace amounts of sodium, potassium and chloride on a carbohydrate base. Unflavoured. A food for special medical purposes.
Paediatric Seravit is a vitamin, mineral and trace element supplement for infants and children designed for use in the dietary management of restrictive therapeutic diets such as: 1. Inborn errors of metabolism such as PKU, MSUD. 2. Elimination diets. 3. As a component of a modular feed.
Nutritional Information
Per 100g
Energy kJ 1139 1275
1275
kcal 268 300
300
Protein g nil added
nil added
Carbohydrate g 67 75
75
of which sugars g 29.4 6.75
6.75
Fat g nil added
nil added
Fibre g nil added
nil added
Vitamins
Vitamin A mcg 4200
4200
Vitamin D3 mcg 55.5
55.5
Vitamin E mg α T.E. 21.4
21.4
Vitamin C mg 400
400
Vitamin K1 mcg 166
166
Thiamin mg 3.2
3.2
Riboflavin mg 4.4
4.4
Niacin mg 35
35
Niacin equivalent mg NE 35
35
Vitamin B6 mg 3.4
3.4
Folacin mcg 303
303
Vitamin B12 mcg 8.6
8.3
Biotin mcg 214
214
Pantothenic acid mg 17
17
Choline mg 350
350
Inositol mg 700
700
Minerals
Sodium mg <20
<20
mmol <0.9
<0.9
Potassium mg <30
<30
mmol <0.8
<0.8
Chloride mg <20
<20
mmol <0.6
<0.6
Calcium mg 2570
2570
Phosphorus mg 1714
1714
Magnesium mg 357
357
Trace Elements
Iron mg 69
69
Copper mg 4.6
4.6
Zinc mg 46
46
Manganese mg 4.6
4.6
Iodine mcg 332
332
Molybdenum mcg 351
351
Selenium mcg 137
137
Chromium mcg 137
137
Osmolalities
14g powder plus 70ml water = mosm/kg of water.
494
14g powder plus 140ml water mosm/kg of water.
243
Directions
The quantity of Paediatric Seravit should be determined by a clinician or dietitian only and is dependant on the age, bodyweight and clinical condition of the patient. The suggested intake may need lowering if vitamins, minerals and trace elements are provided in the diet from other sources. In any event, it is advisable to check the total intake of each patient against the recommended dietary intakes. Whenever Paediatric Seravit is administered, care must be taken to ensure that a complete, balanced diet is provided for the patient. Suggested intakes of Paediatric Seravit (g) 0-6 months: 14 6-12 months: 17 1-7 years: 17-25 7-14 years: 25-35 One yellow No. 4 scoop contains approximately 5g of Paediatric Seravit.
For infants: 1. Weigh out the required amount of Paediatric Seravit 2. Add to the infant formula. If the infant formula/feed is made up three times daily, Paediatric Seravit should be divided into three daily portions and added to each feed. For the older infants and children: 1. Paediatric Seravit can be taken as a drink or paste; water or diluted drinks should be offered at the same time. 2. If preferred, the unflavoured drink or paste may be flavoured with a suitable flavouring from the SHS range of Flavours. Flavouring is not recommended for infants less than six months old. Osmolality of Paediatric Seravit: Unflavoured: 14g powder plus 70ml water (i.e. 1 to 5 w/v dilution) = 494 mosm/kg water. 14g powder plus 140ml water (i.e. 1 to 10 w/v dilution) = 243 mosm/kg water. Flavoured: 14g powder plus 70ml water (i.e. 1 to 5 w/v dilution) = 638 mosm/kg water. 14g powder plus 140ml water (i.e. 1 to 10 w/v dilution) = 316 mosm/kg water.
Warnings
Use under medical supervision. Not suitable as a sole source of nutrition. Not for parenteral use.
Ingredients
Dried glucose syrup, calcium glycerophosphate, citric acid, magnesium acetate, calcium lactate, choline bitartrate, inositol, ascorbic acid, ferrous sulphate, zinc sulphate, nicotinamide, DL-alpha tocopheryl acetate, manganese sulphate, calcium-D-pantothenate, copper sulphate, vitamin A acetate, pyridoxine hydrochloride, thiamine hydrochloride, riboflavin, sodium molybdate, chromium sulphate, potassium iodide, folic acid, sodium hydrogen selenite, vitamin K1, D-biotin, vitamin D3, cyanocobalamin.
You may also like