SMA First Infant Milk Ready to Use from Birth 200ml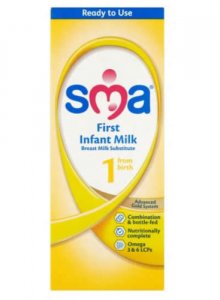 SMA First Infant Milk Ready to Use from Birth 200ml
Description
Fat blend designed to more closely resemble that found in breast milk
Omega 3 & 6 LCPs
Suitable for Halal

Breast milk is best for your baby, but if you can't or choose not to breast feed, we recommend you use SMA First Infant Milk.
SMA First Infant Milk is scientifically formulated to meet your baby's nutritional needs. The formulation is unique to SMA and is our recommended choice when baby is not breastfed or if used in combination with breastfeeding.
We have recently made some improvements to our nutritionally complete, whey dominant infant milk which now includes a new fat blend which is structured in a similar way to the fat found in breast milk. This is in addition to our protein profile, (with alpha-protein, a high quality protein abundant in breast milk) and Omega 3 & 6 LCPs.
Babies grow very fast in the first 6 months of life, usually doubling their birth weight, so getting the right amount of protein and other key nutrients is essential.
At SMA we are continually striving to improve our infant formula, acknowledging the importance of early nutrition and its impact on future health through scientific research & development.
Making it SMA's best breast milk substitute if you should chose to combination feed with breast milk or bottle-feed.
SMA First Infant Milk when baby is not being breastfed or to combination feed because:
SMA First Infant Milk has a new fat profile that more closely resembles that found in breast milk, and may help produce a softer stool consistency, closer to that of a breastfed baby.
SMA First Infant Milk has a close protein profile to breast milk.
SMA First Infant Milk is a whey dominant milk enriched with Alpha-protein, a high quality protein abundant in breast milk.
SMA First Infant Milk also has lower levels of beta-protein compared with other first infant milks. Beta-protein is not normally found in breast milk.
SMA First Infant Milk contains Omega 3 and 6 as recommended by paediatric experts
SMA First Infant Milk is clinically demonstrated to have a prebiotic effect
SMA First Infant Milk is kind to babies immature kidneys
SMA First Infant Milk contains nucleotides (a component found in DNA, beneficial for times of rapid growth) to support immune system development
SMA First Infant Milk is suitable for Halal diets
Directions
Please follow these instructions carefully. Failure to follow instructions may make your baby ill.
Wash hands and sterilise all utensils according to manufacturers' instructions.

Shake the bottle of Aptamil First milk before opening. Using the feeding guide, pour the required amount of infant milk into a sterilised feeding bottle.

Aptamil First milk can be given at room temperature, or warmed if desired. If warmed, check temperature of feed.

For hygiene reasons, discard unfinished milk in the feeding bottle as soon as possible and always within 2 hours.
Warnings
When bottle feeding do not allow prolonged or frequent contact of milk feeds with your baby's teeth as this increases the risk of tooth decay. Ask your health professional or dentist for advice. Make sure your baby's teeth are cleaned after the last feed at night.
Never leave your baby alone during feeding. Do not heat feeds in a microwave, hot spots may occur and cause scalding.
Ingredients
Water, Skimmed Milk, Lactose, Vegetable Oils (including Structured Vegetable Oil), Whey Protein Concentrate (enriched in Alpha-Lactalbumin), Emulsifiers (Monoglycerides of Fatty Acids and Soya Lecithin), Calcium Carbonate, Magnesium Chloride, Calcium Chloride, Vitamin C, Sodium Citrate, Potassium Bicarbonate, Sodium Phosphate, Potassium Citrate, L-Tyrosine, Choline Chloride, Potassium Chloride, Potassium Hydroxide, Calcium Hydroxide, Taurine, Inositol, Ferrous Sulphate, Zinc Sulphate, Vitamin E, L-Tryptophan, Cytidine-5'-Monophosphate, L-Carnitine, Niacin, Disodium Uridine-5'-Monophosphate, Pantothenic Acid, Adenosine-5'-Monophospate, Disodium Inosine-5'-Monophosphate, Disodium Guanosine-5'-Monophosphate, Vitamin A, Thiamin, Copper Sulphate, Vitamin B6, Vitamin D, Riboflavin, Folic Acid, Manganese Sulphate, Vitamin K, Potassium Iodide, Biotin, Sodium Selenite, Vitamin B12.
You may also like