SMA Gold Prem 2 Post Discharge Formula Powder 400g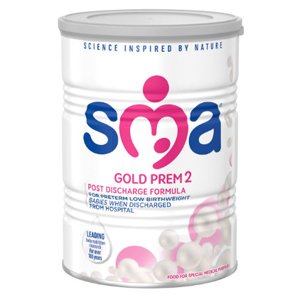 SMA Gold Prem 2 Post Discharge Formula Powder 400g
£5.80
This product is typically dispatched within 3-5 working days from date of order and is not suitable for our next day delivery service.
Brand: SMA
Code: 3453297
Weight: 450g (includes packaging)
Description
SMA Gold Prem 2 is food for special medical purposes. For preterm low birthweight babies when discharged from hospital. This formula contains calcium and phosphorus, is enriched with Omega 3 & 6 LCPs, and is nutritionally complete. Made specifically for preterm low birthweight babies when discharged from hospital.
Directions
Pull the safety seal and open the lid. The scoop is provided under the lid. Lift the tab, pull on the foil seal, carefully and safely remove the seal and dispose of it.
Wash hands well. Wash and sterilise all utensils according to manufacturers' instructions.
Boil 1 litre of fresh tap water. Allow boiled water to cool for no more than 30 minutes. Measure the required amount of water (see feeding guide) into a sterilised bottle, carefully – the water is hot. Do not use artificially softened or repeatedly boiled water.
Using only the scoop provided, add the correct number of scoops of powder (see feeding guide), levelling off each scoop with the back of a clean dry knife. Store the scoop in suspension inside the can and replace lid.
Place the sterilized teat and cap on the bottle and shake well until powder is fully dissolved. Cool bottle under cold running water or in a bowl or jug of cold water until lukewarm, do not immerse the teat.
For older babies, made-up formulae can be added to food.
Warnings
Do not add extra powder or water to make feeds stronger or weaker and do not press powder into scoop. Using too much or too little powder can make your baby ill.
It is recommended to prepare each feed in individual bottles when required.
For hygiene reasons, discard unfinished feed in the bottle as soon as possible.
For enteral use only.
Do not alter or add formulae unless medically directed.
Do not microwave, hot spots may occur and cause scalding.
Remember cows' milk should not be used as a drink during the first year.
Ingredients
Lactose (milk), vegetable oils including structured vegetable oil (sunflower, palm, rapeseed, coconut), maltodextrin, partially hydrolysed whey protein (milk), calcium phosphate, long chain polyunsaturated fatty acids (AA, DHA), potassium hydroxide, magnesium chloride, potassium phosphate, sodium hydroxide, potassium chloride, choline bitartrate, calcium chloride, vitamin C, inositol, L-arginine, acidity regulator (citric acid), taurine, ferrous sulphate, nucleotides (cytidine-, disodium uridine-, adenosine-, disodium guanosine-5'-monophosphate), vitamin E, zinc sulphate, L-carnitine, antioxidants (ascorbyl palmitate, tocopherol-rich extract), pantothenic acid, niacin, riboflavin, copper sulphate, thiamin, vitamin A, Vitamin B6, manganese sulphate, folic acid, potassium iodide, vitamin D, vitamin K, Vitamin B12, biotin, sodium selenate.
You may also like