Snoreeze Throat Spray 23.5ml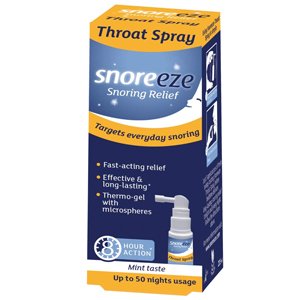 Snoreeze Throat Spray 23.5ml
£8.99 Save: £4.00 RRP: £12.99
Brand: Snoreeze
Code: 2581411
Weight: 24g (includes packaging)
Description
Snoreeze Throat Spray targets the main cause of snoring: dehydration and vibration of the soft tissue at the back of the throat.
The thermo-gel formula changes consistency in response to your natural body warmth. It thickens to ensure the microspheres encapsulating the key ingredients stay where they most effective – soothing and lubricating the throat for up to 8 hours.
Fast-acting relief
Effective and long-lasting
Thermo-gel with microspheres
Directions
For best results, don't eat or drink after applying Snoreeze Throat Spray. More than one application of Snoreeze Throat Spray can be taken, but usually one application is enough.
Warnings
Keep out of reach of small children
Store in a dark place, below 25°C
Snoreeze Throat Spray should be used at room temperature
Do not use if you have an allergy to any of the ingredients
Snoreeze recommends that if you are pregnant, consult your doctor before use
There is no guaranteed cure for snoring. However, Snoreeze can relieve the symptoms of snoring to help provide a peaceful night's sleep.
Snoreeze is not a cure for sleep apnoea (a related respiratory medical condition). You may be suffering from sleep apnoea if you stop breathing during the night, wake up tired and unrefreshed or fall asleep easily during the day. If you experience any of these symptoms we recommend that you consult your doctor.
Ingredients
Aqua, Poloxamer 407, Sorbitan Stearate, Polysorbate 60, Glycerol, Peppermint Oil, Hydrochloric Acid, Calcium Citrate, Potassium Sorbate, Sodium Benzoate, Tocopheryl Acetate.
You may also like