Due to an unusually high number of orders being received dispatch times may be longer than stated. Please allow up to 7 working days for dispatch.
Sterimar Kids Congestion Relief Nasal Spray 50ml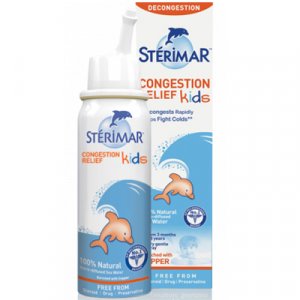 Sterimar Kids Congestion Relief Nasal Spray 50ml
£3.79 Save: £0.50 RRP: £4.29
Brand: Sterimar
Code: 3858156
Weight: 100g (includes packaging)
Description

STÉRIMAR Kids Congestion Relief is a hypertonic* solution made from 100% natural sea water enriched with added copper and magnesium salts. STÉRIMARTM Kids nozzle fits safely in your kids nose to provide effective relief. With a slightly higher salt concentration than cells in the human body, STÉRIMAR Kids creates a natural osmotic effect that gently draws and drains excess fluid, like mucus, from the nasal lining to rapidly relieve bunged up noses and help prevent the risk of secondary infection by washing out nasal cavities.

STÉRIMAR Kids is a 100% natural purified sea water based solution that is completely free from drugs and preservatives. The solution, rich in sea minerals and copper salts, works in harmony with your child's body to gently relieve congestion and help support their bodies natural defenses. The special nozzle is safe to use and can be used from any angle to disperse the solution in very fine droplets for increased efficacy.

* Hypertonic solution: solution with a higher salt concentration than cells in the human body for a natural decongestant effect, called the osmotic effect.
Directions

Stérimar has a unique nozzle that disperses the solution in very fine droplets further up the nose for increased efficacy. Stérimar is easy to use at any angle.

Prime the spray by briefly pressing the nozzle

Insert the nozzle into one nostril

Press briefly without tilting your or your head backwards or sniffing

Blow your nose

Repeat in other nostril

Clean the nozzle after application with soapy water, rinse and dry.

Use as often as required or as recommended by your doctor.
Warnings

Pressurised container: may burst if heated. Keep away from heat, hot surfaces, sparks, open flames and other ignition sources. No smoking. Do not pierce or burn, even after use.

Keep out of the sight and reach of children.
Ingredients

Sea Water, Copper Salt, Manganese Salt and Purified Water.
You may also like