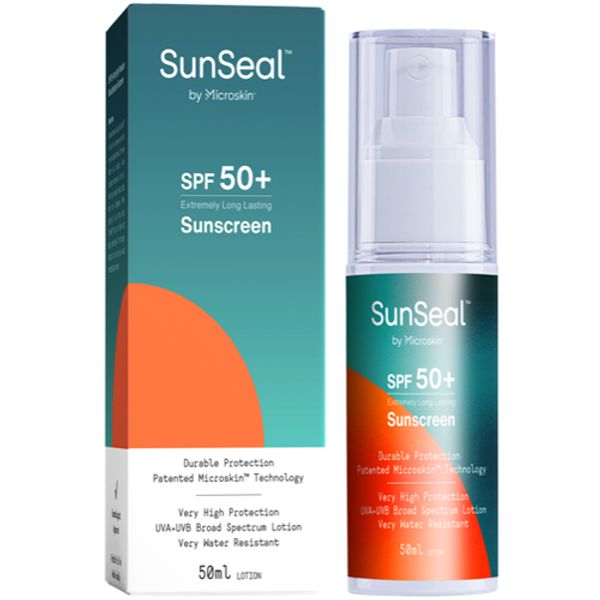 SunSeal Sunscreen SPF50+ Lotion Spray 200ml
This product is typically dispatched within 1-3 working days from date of order when using our standard delivery or 48 Hour Tracked and Signed service.
Description

SunSeal™ by Microskin™ redefines what sun protection should be. Thanks to patented Microskin™ technology SunSeal have been able to create what they believe is the most durable and effective sun protection available anywhere. We all love spending time in the great outdoors, whether it's spending a sunny day by the sea, playing sport or a family barbecue in the back yard. Sun protection while enjoying time outside is hugely important.

SunSeal™ is not absorbed into the skin like other sunscreens, using the Microskin™ technology, it binds to the skin cells on the surface of the skin and creates a protective micro barrier effectively sealing your natural skin from the potential damage the suns harmful rays cause. SunSeal™ acts just like your natural skin does only with SPF30 or SPF50+ protection, it is flexible, breathable and completely waterproof, it allows you to perspire like you normally would and doesn't need to be reapplied after you have been in the water, plus with our organic UVA and UVB blockers SunSeal™ protects your skin from cellular damage caused by the sun and combats premature ageing.

Independent studies have proven that the Microskin™ technology used in SunSeal™ lasts on the skin for 3 days and in some cases even longer. The wearability of Microskin™ products varies with different skin types (oily/dry) and on different parts of the body. Natural oils in facial skin will breakdown the Microskin™ film more quickly than other areas. On other parts of the body, you can expect full coverage for three days with a single application and in some cases even longer. When Microskin™ products are applied to the hands, the film can break down a little quicker due to the frequent contact and washing and drying of hands. People that have suffered from bad burns are able to get more durability from Microskin™ as the sweat or oil glands we have in our skin are in most cases no longer there delivering oil to this skin which eventually breaks the Microskin™ down.
Directions

Shake bottle well.

Apply SunSeal to the skin in generous amounts over all exposed areas 20 minutes before sun exposure.

Avoid prolonged exposure in the sun.
Warnings

Wear long sleeved shirts, pants, hats and sunglasses.

When applying to your face, spray SunSeal into your hands and apply generously.

Do not spray directly onto face and avoid contact with eyes.

Keep out of the sight and reach of children.

Do not use on broken, diseased or damaged skin.

Do not use near heat or flame.

Contains alcohol.
Ingredients

Homosalate, Octocrylene, Octyl Salicylate, Oxybenzone, Butyl Methoxydibenzoylmethane, Alcohol.
You may also like