Due to an unusually high number of orders being received dispatch times may be longer than stated. Please allow up to 7 working days for dispatch.

We are also experiencing a high volume of calls. Please use our contact us page to leave a message and we will get back to you as soon as possible.
Thermoskin Beige Tennis Elbow Strap with Pad Small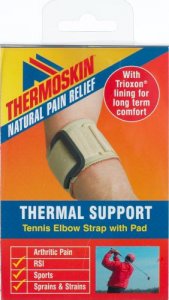 Thermoskin Beige Tennis Elbow Strap with Pad Small
£9.29 Save: £2.46 RRP: £11.75
Brand: Thermoskin
Code: 2791531
Weight: 175g (includes packaging)
Description
THERMOSKIN is a new generation therapeutic support developed for the simple and effective treatment of pain and injury to muscles, tendons and ligaments. It combines the perfect balance of naturally generated body heat for therapeutic pain relief, compression support whilst allowing maximum flexibility and manoeuvrability. The THERMOSKIN TENNIS ELBOW STRAP helps in the prevention and treatment of Medial Lateral Epicondylitis and prevents overloading where forearm strain is an occupational hazard. Unique to THERMOSKIN is a breathable TRIOXON lining that captures body heat to promote healing and circulation, but wicks away any moisture and perspiration, keeping the skin dry and comfortable and allowing maximum ventilation for the skin to breathe and remain well oxygenated. In addition, the THERMOSKIN TENNIS ELBOW STRAP features an adjustable strap for rotational stability with an additional pad to provide localised compression to the problem area.
You don't have to play tennis to develop tennis elbow. Even repetitive tasks like sweeping up leaves or typing out a manuscript can result in "Lateral Epicondylitis" with pain over the outside of the elbow, intensified by twisting the forearm and by lifting when the forearm is pronated (palm down) though less painful with the forearm supinated (palm up).
The pain is caused by straining the area around the elbow that provides a firm base for the muscles.
With tennis elbow, the strain is on the outer side, with golfers elbow it's on the inner side.
The best way to deal with Tennis Elbow is to use a THERMOSKIN TENNIS ELBOW STRAP to brace, support and compress the muscle and restrict muscle use and movement around the forearm until the pain and discomfort has eased and receded.

Sizing Guide:


| | | |
| --- | --- | --- |
| Size | cm | Inch |
| XS | 21 – 23 | 8¼ - 9 |
| | 24 – 27 | 9¼ - 10½ |
| M | 28 – 31 | 11 - 12¼ |
| L | 32 - 36 | 12½ - 14¼ |
| XL | 37 – 42 | 14½ - 16½ |
| XXL | 43 - 48 | 16¾ - 18¾ |












Measure between upper forearm and elbow joint.
You may also like