Tidman's Soothing Seasalt Bathing Crystals 1kg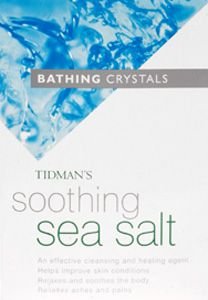 Tidman's Soothing Seasalt Bathing Crystals 1kg
£2.39 Save: £0.06 RRP: £2.45
Brand: Tidman's
Code: 0287193
Weight: 1200g (includes packaging)
Description
Bath Sea Salt Tidmens Large has been a well known selling product from 1973. This product is a great way to unwind and relax the mind body and soul. Everyone needs a little TLC after having a hard day and there is nothing better than looking forward to a nice long soak in the tub. Just add this Bath Sea Salt to the water and feel it gently soothe tired aching and painful muscles along with gentle exfoliating technique to improve skin condition.
Tidmans Soothing Sea Salt Large relaxes and soothes the body promoting a feeling of wellbeing and restful sleep. Enjoy the natural relaxation of sea bathing in your own home or use as a natural massage for soft, smooth skin and to stimulate circulation.
Directions
How to use Tidmans Soothing Sea Salt Large:
A soothing gargle:
For mouth problems such as sore thorats or ulcers.
Exfoliating:
Face and body add 1 teaspoon Tidman's Soothing Sea Salt to your favourite cleansing cream or 1 tablespoon to your favourite bath oil. Wet your face and body and rub into the skin gently avoiding the delicate eye area and any sensitive areas or damaged skin. Rinse with cool water and pat dry.
Feet - moisten a tablespoon of Tidman's Soothing Sea Salt in your hand and rub the salt vigorously into soles and heels. Soak your feet for 15 minutes in warm saltwater.
Elbows - put a little Tidman's Soothing Sea Salt onto a moistened bath mitt or flannel and gently rub until elbows feel soft.
After exfoliating always massage in your favourite moisturiser or body oil.
Warnings
If you are unsure about your health condition always speak to a medical professional.
Ingredients
Tidmans Soothing Sea Salt contains:
Pure salt.
You may also like