Tommee Tippee First Cup 4m+ (Single Cup)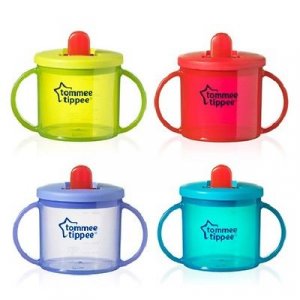 Colour may vary
Tommee Tippee First Cup 4m+ (Single Cup)
£1.79
Brand: Tommee Tippee
Code: 0186718
Weight: 175g (includes packaging)
Description
Please note: we cannot guarantee which colour cup you will be sent
Free flow
Leak proof
Recommended by health professionals
Perfect for first sips
IDEAL FOR TRAVEL.
SHAPED FOR TINY HANDS.
FREE FLOW FLIP UP SPOUT.
OUR FIRST CUP IS ONE OF THE MOST POPULAR CUPS IN BRITAIN BECAUSE IT IS SO EASY TO USE. IT'S FREE-FLOWING, HAS TWO HANDLES AND A SPOUT WHICH FOLDS FLAT FOR TRAVEL MAKING IT LEAKPROOF.
Most helpful of all, it has two juice right lines to help mum dilute juice in the 1:10 proportions recommended for healthy teeth development.
It has an easy to clean and easy to use flip up spout, plus a juice line, which advises the dilution levels. It's suitable for all forms of sterilisation and is dishwasher safe (top rack only).
Warnings
PLEASE NOTE: THIS SPOUT IS NOT INTENDED TO BE DETACHED.
NOT FOR USE WITH HOT OR FIZZY (CARBONATED) DRINKS AS LID MAY POP OFF.
Instructions are included and must be kept for future reference as they include important information.
You may also like