UltraDEX Low-Abrasion Toothpaste 75ml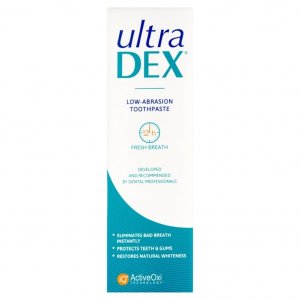 UltraDEX Low-Abrasion Toothpaste 75ml
£4.09 Save: £2.06 RRP: £6.15
13 sold in the last hour!
This product is typically dispatched within 1-3 working days from date of order when using our standard delivery or 48 Hour Tracked and Signed service.
Brand: Ultradex
Code: 3710472
Weight: 82g (includes packaging)
Description
UltraDEX Toothpaste is recommended by dentists. Eliminates bad breath compounds. Patented to fight plaque. Kills bacteria, a cause of tooth decay and gum problems. Whitens teeth. Low in abrasion. Fresh clean taste for daily use. Contains no animal by products.
Most people have bad breath at some time or other and in 9 out of 10 case the cause originates from the mouth. Dentists recommend toothbrushing with UltraDEX toothpaste for the elimination of bad breath compounds (VSCs), for fresh breath and good oral hygiene. The clinically proven action of the CloSYS II ingredient eliminates, not masks, bad breath VSCs on contact and carries on working all day long. CloSYS II ingredient is an effective anti-bacterial formula to fight plaque, which research shows is a cause of gum problems and tooth decay.
UltraDEX toothpaste is non-foaming, low in abrasion and has a fresh, clean taste. Teeth whiten gradually as food and drink stains are gently removed. For an unsurpassed level of oral hygiene and the freshest of breath use daily in conjunction with UltraDEX oral rinse.
How UltraDEX Toothpaste works:
In even the cleanest mouth, odour causing molecules known as Volatile Sulphur Compounds (VSCs) are constantly being produced by the natural breakdown of bacteria and human cells. Ordinary toothpastes and mouthwashes only cover up these compounds with a more pleasant smell or flavour for a few minutes. The VSCs are still there, causing odour in the mouth. However, the Closys II ingredient in UltraDEX toothpaste, oral rinse and spray, actually breaks the molecular bonds to destroy the odour-causing VSCs. With regular use, UltraDEX toothpaste, oral rinse and spray can assure you of cleaner teeth, a healthier mouth and the freshest breath possible.
Additional Uses:
Toothbrushes can become contaminated with bacteria whilst not in use. This can potentially occur, for example, when a number of toothbrushes are kept together in the same holder without headguards. A thorough rinsing in UltraDEX oral rinse will freshen your brush prior to cleaning your teeth. Users of orthodontic braces can find that rinsing with UltraDEX oral rinse can be an effective aid in maintaining a healthy mouth as it can reduce harmful bacteria that may be difficult to reach with normal toothbrushing.
Dentures can be soaked in UltraDEX oral rinse to eliminate unpleasant odours and they can be cleaned with UltraDEX toothpaste to reduce staining. UltraDEX toothpaste can also be placed on the back of the denture plate when in use.
For some people with impaired physical capabilities the non foaming aspect of UltraDEX toothpaste can make the process of teeth cleaning much easier.
Directions
Use a pea-sized amount on your brush and use at least twice daily.
Proper brushing takes a minimum of two minutes and a non-foaming (sulphate free) toothpaste like UltraDEX can help you brush for longer.
For maximum benefit use together with our oral rinse and interdental products.
Brushing teeth is an essential part of any good oral care regime and regular brushing can really help to reduce the most common oral care problems, especially when combined with interdental cleaning and rinsing.
Warnings
Children under 7 should use a pea-sized amount and brushing should be supervised to minimise swallowing.
If using fluoride supplements consult your dentist or doctor before use.
Ingredients
Active Ingredient: iQ+ ActiveOxi Technology powered by Stabilised Chlorine Dioxide and Sodium Monofluorophosphate. Contains Sodium Monofluorophosphate (1000 ppm Fluoride).
Ingredients: Aqua, Hydrated Silica, Hydrogenated Starch Hydrolysate, Glycerin, Cellulose Gum, CI 77891, Trisodium Phosphate, Sodium Monofluorophosphate, Sodium Saccharin, Mentha Piperita Oil, Mentha Spicate Herb Oil, Sodium Citrate, Menthol, Sodium Chlorite, Citric Acid, Sodium Bicarbonate, Limonene.
You may also like