Wisdom InterProximal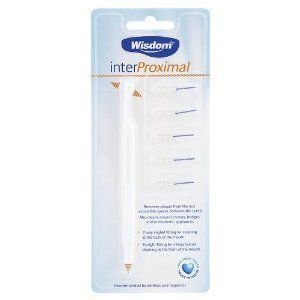 Description
Wisdom Interproximal Sets are specially designed to give better oral health by cleaning between the teeth. This toothbrush enhances oral hygiene by cleaning the less accessible parts of the mouth for a more thorough clean and effective interdental protection. Wisdom Interproximal Set protects bleeding gums, which if left untreated, can be dangerous to teeth. This set not only protects against gum disease but also helps with plaque removal. This tooth care product can be used on orthodontic appliances, crowns and bridge work. It contains a three-angled handle to reach all areas, as well as plastic coated wire heads to avoid over-sensitivity. Wisdom Interproximal Sets is an effective dental product that gives care to the teeth and gums. The set allows you to tackle gum disease, remove plaque and bacteria and lets you reach the areas of the mouth that have previously been difficult to access when brushing and flossing.
Wisdom Interproximal is designed to clean less accessible parts of the mouth between teeth and around bridges.
Straight fitting for interproximal cleaning in the front of the mouth.
Recommended by dentists and hygienists.
Cleans between teeth and around crowns, bridges and orthodontic appllances.
3 angled handle to reach all areas more effectively.
Plastic coated wire heads to avoid sensitivity.
Directions
Use regularly to help keep your teeth and gums healthy, to protect against gum disease and tooth decay and to keep your breath fresh.
Warnings
There are no warnings listed for this product.
Ingredients
There are no ingredients listed for this product.
You may also like