Zenoxone Hydrocortisone Cream 15g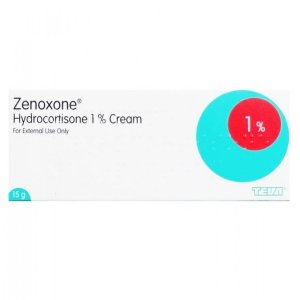 Zenoxone Hydrocortisone Cream 15g
£2.49
Delivery options for this product have been restricted. More details about the delivery options available will appear if you add this product to your basket.
This product is typically dispatched within 3-5 working days from date of order and is not suitable for our next day delivery service.
Brand: Zenoxone
Code: 0300293
Weight: 15g (includes packaging)
Description
For the relief of irritant contact dermatitis, allergic contact dermatitis, insect bite reactions and mild to moderate eczema.
Hydrocortisone cream is a type of medicine called a topical corticosteroid.
Corticosteroids are medicines used for reducing inflammation. Inflammation of the skin happens as a result of allergy or irritation of the skin, and is caused by the release of various substances that are important in the immune system. These substances cause blood vessels to widen and result in the irritated area becoming red, swollen, itchy and painful, such as is seen in dermatitis or eczema.
When hydrocortisone is applied to the skin it works by acting inside the cells to decrease the release of these inflammatory substances. This reduces swelling, redness and itch.
Hydrocortisone is a mild corticosteroid that is applied to the skin to treat a wide variety of inflammatory skin disorders, such as eczema or insect bite reactions.
Directions
To be applied topically. Adults and elderly: To be applied sparingly once or twice daily for a maximum period of one week. Children: To be applied as above. Do not use for children under 10 years of age without medical advice.
Warnings
This preparation is for external use only.
Do not apply to the face, mucosa (eg lining of mouth and nose) or areas around the genitals or anus, unless instructed by your doctor.
Avoid contact of this medicine with the eyes.
If corticosteroids are used long-term, on large areas of skin, raw skin, skin folds, or under airtight dressings (including nappies) they are absorbed into the body more. This increases the risk of local side effects such as skin thinning, and those on other parts of the body, such as a decrease in the production of natural hormones by the adrenal glands. For this reason, continuous, long-term use of this medicine should be avoided wherever possible, particularly in children and on large areas of skin. You should only use airtight dressings over the affected area if instructed by your doctor.
This medicine should be applied thinly and evenly to the affected area(s).
Wash your hands thoroughly after applying this medicine, unless the hands are the area being treated.
Consult your doctor if there is no improvement in your skin after seven days, or if your skin becomes infected during treatment.
Not to be used in
Children under the age of ten years, except on medical advice.
Acne.
Viral skin infections, such as chickenpox, shingles, cold sores or herpes simplex.
Bacterial skin infections, such as impetigo.
Fungal skin infections such as thrush, ringworm, athlete's foot.
Inflammatory rash around the mouth (perioral dermatitis).
Skin sores caused by syphilis.
Skin sores caused by tuberculosis.
Widespread plaque psoriasis.
Ingredients
Hydrocortisone BP 1% w/w
Also contains:
Purified water, White Soft Paraffin, Cetomacrogol Emulsifying Wax, Liquid Paraffin, Chlorocresol.
You may also like